Spring snow storm blankets eastern US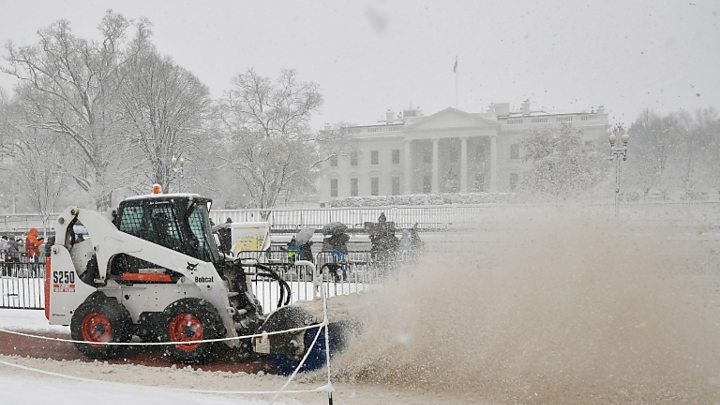 A storm blanketing the north-eastern United States with snow, ice, and winds has caused travel chaos and work closures on the first full day spring.
The storm is the fourth to hit the northeastern US in the past month and is being blamed for one traffic death.
Forecasters predict up to 18in (45cm) of snow along the eastern seaboard from Philadelphia to New York City.
Inland regions such as Ohio, Indiana, and Kentucky are also seeing snowfall.
Schools in Philadelphia, New Jersey, Pittsburgh, and Washington DC were closed, but students in Boston were told to brave the weather.
Over 4,000 flights in and out of the US were cancelled, and the US federal government closed for the day due to the extreme weather.
In New York, police say slippery roads were a factor in a van crash that killed one woman and injured five others.
Ice on power lines has caused thousands of outages in New Jersey and Pennsylvania.
First Lady Melania Trump tweeted a photo of the snow at the White House, where official presidential events were cancelled.
The press secretary for New York Governor Andrew Cuomo tweeted a photo as he stopped on the Long Island Expressway to inspect a truck accident.
Mr Cuomo has declared a state of emergency in New York.