Rosa Parks house: Dispute threatens bitter end to homecoming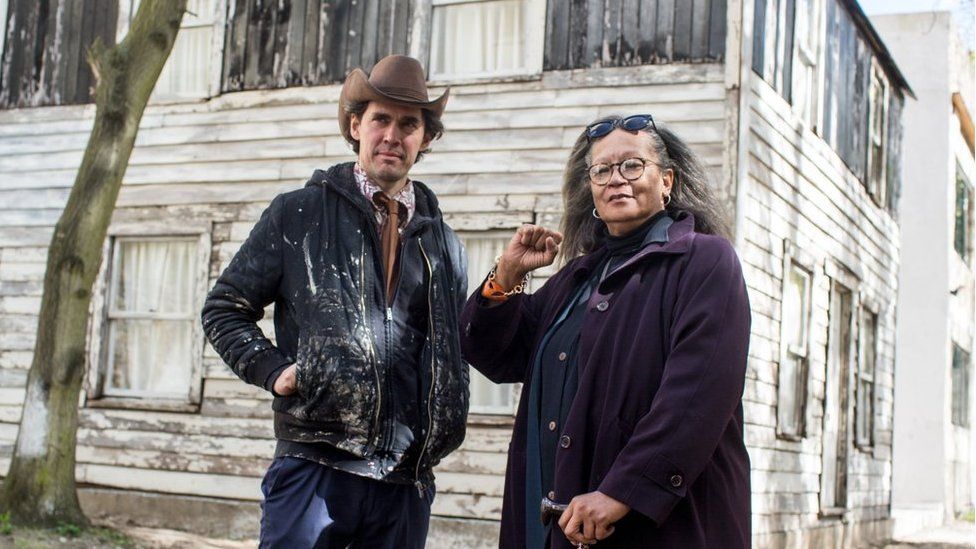 It has been a long, strange journey for the small clapboard house where civil rights pioneer Rosa Parks once lived - from Detroit, Michigan to Providence, Rhode Island, via the German capital, Berlin.
The house now sits half-rebuilt in an old factory in Providence, where it is at the centre of a bitter dispute between members of Parks's family, an American artist, and an institute Parks co-founded.
According to family members and others, the house was the first port of call for Parks after she fled death threats in her home state of Alabama. It was 1957, two years after she had refused to give up her seat on the bus for a white person, sparking a bus boycott that became a touchstone of the civil rights movement.
The house at 2672 South Deacon Street, Detroit, belonged to Parks's brother Sylvester McCauley. Parks's niece Rhea McCauley, who was five at the time, recalled "Auntie Rosa" arriving from Alabama and staying for two years.
"There would have been 17 or 18 people in the house then," said Ms McCauley, now 70. "There was so many of us the house had to be sparse. We sat around the table at mealtimes and said grace. I remember Auntie Rosa as quiet. She was gone a lot, she would leave early in the morning to go look for work."
At some point, the house fell out of the family's ownership and into foreclosure and disrepair, like so many others in Detroit. Two years ago, Ms McCauley bought it for $500 to save it from demolition, and an American artist, Ryan Mendoza, stepped in to help preserve it, eventually shipping it back to display it at his home in Berlin.
Then earlier this year it was announced that the house would return home to the US. Brown University in Rhode Island, an institution reckoning with its own past ties to slavery, was to involve the structure in a new exhibition on the civil rights movement.
But there was another twist in the tale yet. With the house half-rebuilt, the university suddenly rescinded its involvement, along with financial backing for the project. It said it had become aware of a dispute between the Rosa and Raymond Parks Institute and the family, and was withdrawing "out of deep respect for the legacy of Rosa Parks".
"We didn't get a clear explanation from Brown, they didn't speak to us," said Ms McCauley. "We were just so disappointed."
'This isn't just history'
The Rosa and Raymond Parks Institute, which owns the publicity rights to Parks's image, is opposing the exhibition. Steven Cohen, a lawyer for the institute, has attacked what he says is a misleading narrative about the house created by Ms McCauley.
Mr Cohen initially claimed that Parks never lived there at all. On Thursday, he conceded that she did, but said he had been told she stayed there only briefly. He would not say who told him.
The house was "at most a minor waystation" for Parks, Mr Cohen said. "When we talk about Rosa Parks's house, we can only talk about one building, 9336 Wildemere Street," he said. The Wildemere Street house, also in Detroit, is where Parks moved next. It is owned by the institute and serves as their offices.
Mr Cohen has repeatedly accused Ms McCauley of intending to profit from the house, an accusation she fiercely denies. "How are we profiting?" she said. "We are not charging the people of Providence an entrance fee, it's free. There's going to be dancing, food, photographs, poetry. What's bad about poetry?"
Mr Cohen said the institute also objected to Ms McCauley and Mr Mendoza linking the decline and disrepair of the property to racism in Detroit.
"There is a narrative that the city of Detroit has acted badly in trying to destroy the home, and that there might be racist or other improper reasons," he said. "The city of Detroit does not have a racist agenda in housing. The deterioration of this home was not due to racism, as far as I know."
But Ms McCauley and Mr Mendoza say the Deacon Street house serves as an important symbol of racism from Parks's time to now. "Of course this is about racism," said Ms McCauley. "And it's not just about history, it's about racism today. It's the south, it's Detroit, it's America, it's women, it's the world."
He said he hoped the house would help redress a shortage of monuments in the US to the civil rights movement. "There are 1,500 Confederate monuments in the US, many of them on school grounds," he said. "That is why we want to exhibit this house and for schoolchildren to see it."
The plan to show the Rosa Parks house in Providence has the support of prominent civil rights organisations ACLU and NAACP.
"This is a very important exhibit with a very important story to tell, especially with all that's going on in the country now with race relations," said Steven Brown, executive director of the Rhode Island ACLU. "We're going to try and help any way we can."
But Mr Mendoza estimates he needs about $250,000 to carry the project through, money he doesn't have. In Berlin, only the exterior of the house was rebuilt. The Providence exhibition was due to restore the home's original floors, doors and stairway. Other funds were needed for security, displays, speakers to address visitors and school buses to bring local schoolchildren to the site, Mr Mendoza said.
There is a bright spot for the house - the Charles H Wright Museum of African American History in Detroit confirmed on Tuesday that it was in talks with Mr Mendoza to exhibit the house after it leaves Providence.
"Rosa Parks is a very important person for all of us, but especially people in Detroit," said Juanita Moore, president and chief executive of the Wright Museum. "Preserving the house would help to preserve her legacy and her story, and that's important to people in this city and in the whole country."
It is often the places that history unfolded, as opposed to monuments, that provide the most powerful connections to the past. David Blight, a professor of African American history at Yale, recalled visiting an old house in New Bedford, Massachusetts, where the famous abolitionist and writer Frederick Douglass spent his first night free from slavery, and chose his new name.
"That little white house in New Bedford still stands, and they have preserved the interior as a museum," Mr Blight said. "For me, as a Douglass scholar, seeing that interior was really quite moving."