Trump hits back at 'physically weak' Joe Biden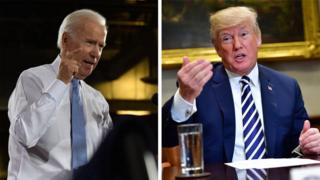 US President Donald Trump has suggested that former US Vice-President Joe Biden would lose a fight with him after Mr Biden openly fantasised of a punch-up.
Mr Trump called him "crazy" and "weak" after Mr Biden said: "If we were in high school, I'd take him behind the gym and beat the hell out of him".
This is not the first time the two septuagenarians have discussed the prospect of a tussle.
Mr Biden has been a vocal critic of Mr Trump since the presidential election.
On Thursday morning, Mr Trump, 71, took to Twitter to accuse "crazy Joe Biden" of "trying to act like a tough guy".
Mr Trump's Twitter response came after Mr Biden, 75, said in a Miami speech on Tuesday: "They asked me if I'd like to debate this gentleman, and I said 'no.'
"I said, 'If we were in high school, I'd take him behind the gym and beat the hell out of him.'"
"I've been in a lot of locker rooms my whole life," said the Delaware Democrat, who served as vice-president under Barack Obama from 2009 to 2017.
"I'm a pretty damn good athlete. Any guy that talked that way was usually the fattest, ugliest SOB in the room."
During the 2016 presidential campaign Mr Biden said that Mr Trump's 2005 recorded comments about how his fame allowed him to "grab" women by the genitals made him want to fight the then-Republican candidate "behind the gym".
---
Is this a Biden 2020 strategy?
Analysis by Anthony Zurcher, BBC News, Washington
It's revealing that Donald Trump, who has a knack for finding a political opponent's weakness, could only muster a "Crazy Joe" nickname and "no, I'd beat YOU up" rejoinder.
Joe Biden has his political shortcomings - he ran for the president twice and barely made a ripple - but the career politician's carefully cultivated blue-collar image makes him a challenging target for Mr Trump.
A 2016 presidential matchup between the two would have been a rollicking affair and has generated countless "what ifs". Would Mr Biden have won the Midwest and bested Mr Trump?
Such speculation may not be all academic, as Mr Biden still hasn't ruled out a 2020 campaign. He'd be 77 on election day, four years older than Mr Trump, but he's made the kind of early manoeuvres that could lead to another run at the presidency.
If his health holds, the Trump-Biden tussle - in the ballot box, not the schoolyard - could end up as more than just tough talk.
---
Axios reported on Thursday that Mr Biden - who is rumoured to be considering running for president in 2020 - has hired a group of "big-name" policymakers to serve on his Biden Institute Policy Advisory Board.
Last month both men campaigned for rival candidates in a congressional election in Pennsylvania.
The district, which Mr Trump handily won by 20 points in 2016, voted to elect a Democrat.