Iowa family found dead in Mexico resort of Tulum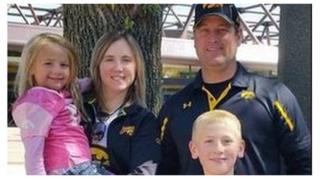 A family of four from Iowa have been found dead inside their rented holiday home in Mexico, authorities say.
The Sharp family had been expected to attend a basketball game in Illinois on Wednesday. A missing person report was filed after they did not show up.
The incident took place in the popular resort of Tulum, according to the Mexico Tourism Board.
Mexican and US police say there was no sign of traumatic injury and no foul play is suspected at this time.
"Autopsies are being performed in Mexico and results are pending," the police department in Creston, Iowa, said in a statement on Friday.
A local news station in Mexico reports that investigators are looking into whether food poisoning or a gas leak could have been responsible.
Kevin, 41, Amy, 38, Sterling, 12, and Adrianna Sharp, seven, were found dead after Mexican police visited the condominium to check on them upon the request of the US Department of State.
According to KCCI-News in Des Moines, there was no sign of struggle in the room.
The Mexico Tourism Board said in a statement it was aware of the investigation and "we would like to express our sympathies to all family and friends of the Sharp family".
"The entire Mexico tourism industry offers its support and commitment to finding out what happened."
The board added that the area remains "a safe place to visit and there are no increased levels of threats observed at this time".
The Sharps' cousin, Jana Weland, told ABC News it was the family's second trip to Mexico.
She added it was "unusual" that they were not posting photos on social media because "last year they shared pictures about every day".
"To my knowledge, they went to sleep and never woke up," Ms Weland said.