Remington: Oldest US gunmaker files for bankruptcy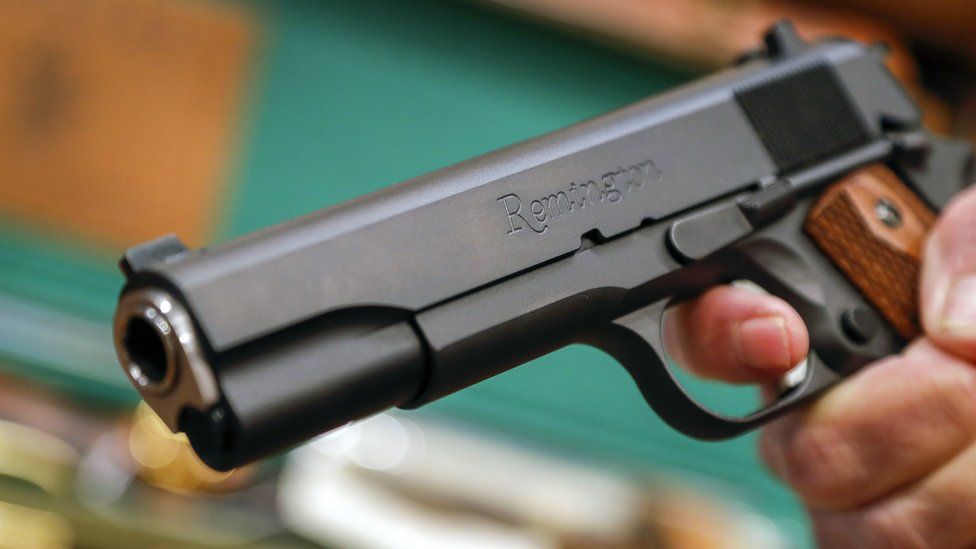 The oldest gun manufacturer in the US, Remington Outdoor, has filed for bankruptcy in the wake of slumping sales.
The firm, founded more than 200 years ago, filed for bankruptcy protection to cut a deal with its creditors.
Remington's chief financial officer said the company's sales dropped significantly in the year before its bankruptcy, court papers show.
The filing comes amid fresh demands for greater gun control in the US.
A shooting at a Florida high school in February has revived the debate on gun control, and on Saturday hundreds of thousands of protesters took to the streets of US cities.
Some US retailers have raised the age limit for certain firearms purchases to 21 or stopped stocking semi-automatic weapons.
Remington shot itself in the foot
By Natalie Sherman, BBC News, New York
It's tempting to read Remington's bankruptcy, occurring in the midst of anti-gun protests and after the bankruptcy of rival Colt in 2015, as a sign that America's gun culture might not be as impregnable as it seemed.
But some caution is warranted.
For one, Remington has had plenty of problems of its own making, including errors in financial statements and faulty products.
It is reliant on chains like Walmart and Dick's Sporting Goods, which are fighting for customers in every category as shopping habits shift online.
Then there is the company's frequent losses and more than $1bn (£700m) in debt, piled on under owner Cerberus Capital Management during a decade of acquisitions.
Remington's sales did fall markedly last year, tumbling to $603m - about half what the firm netted in 2013. But most analysts think that's because buyers are less worried about the possibility of new gun restrictions since US President Donald Trump took office.
The restructuring plan the firm announced is set to wipe out much of the company's debt burden - and meanwhile the firm, under new owners, is to continue operating. Remington's Chapter 11 filing is unlikely to be the end of the story.
The FBI processed a record number of background checks on gun purchases during the election year in 2016, but the rate of background checks plunged following Mr Trump's election.
Analysts say more Americans were buying guns two years ago because they feared a possible Hillary Clinton presidency could usher in gun control policies.
It is thought that gun sales slowed after Mr Trump took office because firearms enthusiasts generally do not fear a Republican president will try to deprive them of their constitutional right to bear arms.
Remington, best known for its rifles and shotguns, was founded in 1816.
In court papers filed in Delaware, Remington's chief financial officer, Stephen Jackson, said the company was having difficulty meeting requirements from its lenders as a result of declining sales.
During the bankruptcy process, the company will stay in business.
In most US Chapter 11 bankruptcy processes, the debtor proposes a reorganisation plan to maintain its business and pay creditors over a period of time.