Walmart shelves 'hyper-sexualised' Cosmopolitan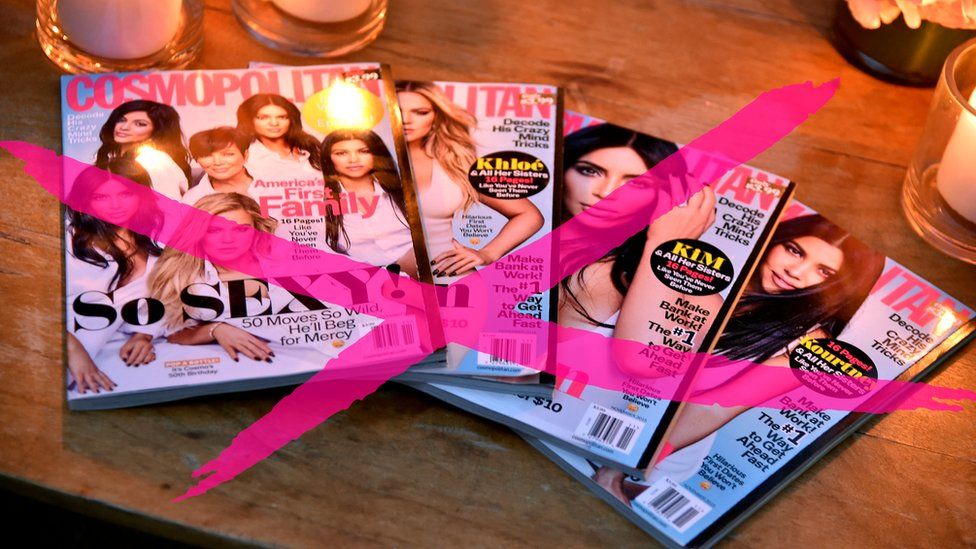 Cosmopolitan, one of the world's largest magazines, is being removed from view at thousands of checkouts by the US supermarket giant Walmart.
The move has been celebrated as a victory by a conservative non-profit group that has lobbied against the magazine's "hyper-sexualised" content for years.
The National Centre on Sexual Exploitation (NCOSE) said they had been in "collaborative dialogue" with Walmart for months.
In a statement, Walmart said the change was "primarily a business decision" but "concerns raised were heard".
They said that while it would be removed from checkouts, Cosmopolitan would still be available to purchase in designated magazine sections in store.
Cosmopolitan, which has a print and online reach of tens of millions, told the BBC it was proud of what it had achieved for women around the world.
That reputation has continued today, with dozens of international editions, which Cosmopolitan says cater for the "fun, fearless female".
Walmart's decision - celebrated by NCOSE as a #MeToo development - raises more questions than answers about where lines are drawn.
Haley Halverson, Vice-President of Advocacy and Outreach for NCOSE, told the BBC that they think the magazine sends the same messages about female sexuality as publications such as Playboy.
"It's filled with articles that are extremely sexually graphic, encouraging its young readership to engage in everything from sexting, to watching pornography. It's also promoting things such as group acts and other forms of risky sex," she says.
Ms Halverson believes the magazine targets a "young female demographic" with its bright covers and cover stars, such as former Disney actors.
Her organisation, formerly known as Morality in Media, has already successfully lobbied US hotel chains including Hyatt to stop providing adult films to guests.
Supporters of the NCOSE applauded Walmart's decision on social media, while others questioned its logic.
"The magazine has a lot of hyper-sexualised images of women, something that has unfortunately become ubiquitous in our society," Ms Halverson says.
"We think they're really contributing to a culture that is normalising male sexual entitlement which gives rise to things like the #MeToo problem."
'You can't conflate sex with sexism'
Both Kirsten King, who has written for Cosmopolitan on women's issues, and freelance feminist writer Suzannah Weiss disagree with the characterisation of the move as part of the #MeToo conversation.
Ms Weiss told the BBC it seemed as if the language of feminism and #MeToo was being co-opted in this particular argument.
"You can't conflate sex with sexism and say everything related to sexuality is morally wrong," she said.
"I sort of agree with them that Cosmopolitan can be problematic.
"But I don't know if they're the worst offender. They have some valid points but I don't really buy that it's corrupting people in the way they're saying."
Kirsten King describes folding Walmart's decision in with #MeToo as "a stretch". She said that she believed the move was unfair because it created "another double standard for women" as magazines such as Men's Fitness weren't getting the same treatment.
"When women talk about sex, people tend to get incredibly uncomfortable. I don't think it's Selena Gomez in a crop top that is making people uncomfortable here," she says.
"Saying it's inappropriate for children to see women's bodies teaches children that women's bodies are inappropriate.
"Your child could be walking down the street in a crop top or bikini and shouldn't be taught that's wrong or bad, or is pornography."
Ms Halverson from NCOSE argues that women's magazines, and Cosmo in particular, seem to reinforce ideas of male sexual entitlement.
"If it really was about empowering women they would focus on ways women can get ahead in their careers and other positive coverage," she says.
"They may have a niche article now and then. But any cover you pick up will talk about how to please a man sexually."
Kirsten King, who has herself written opinion pieces for Cosmopolitan, disagrees.
"As a teen, Cosmo was where I learned a lot about sex, and while that education was not perfect, in the US sexual education can be super flawed," Ms King says.
"I'm a queer woman and I've had the chance to write a couple of op-eds for Cosmo - and maybe that's helped some other blossoming queer kid realise who they are too."
"The more conversations we have about women's health and sexuality the better. Work has to be done to make them more nuanced, but eliminating them completely or deeming them inappropriate doesn't get us anywhere."
All three agreed that women's magazines had more to do in their representations of women and female sexuality.
"The images we see of women are predominantly sexualised, so we get the idea that is the only acceptable way to be and that's the most important thing about you," writer Suzannah Weiss says.
She points to the work being done by newer female-led platforms such as Bitch Media.
"At the moment, there aren't really magazine covers with women who don't fit the conventional moulds."