NFL cheerleader says she was fired over Instagram photo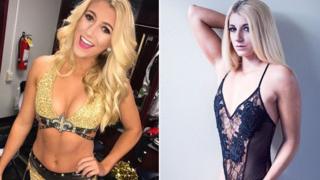 Dancing for the New Orleans Saintsations cheerleading squad was a lifelong dream for Bailey Davis.
Those dreams were crushed after three years on the job when she says she was fired for a "distasteful" Instagram post.
Now, the former cheerleader has filed a complaint against the National Football League (NFL).
Davis grew up in Ellisville, Mississippi. Her family travelled 150 miles (240km) to Louisiana to support the New Orleans Saints football team each season.
Her mother worked as a choreographer for the Saintsations for 18 years and Davis grew up around the women with the goal of someday becoming one of them.
After high school, Davis finally had her chance to dance in the Superdome, where the Saints play. She was invited to become a Saintsation after a year of junior college.
The 22-year-old spent three seasons travelling with the 2010 Super Bowl champions until she was fired on 23 January.
The photo that she said led to her dismissal showed Davis in a lingerie body suit, which her employer allegedly claimed violated Saints policy.
"This letter is your confirmation of the termination of your employment with the New Orleans Louisiana Saints effective today... due to failure to comply with Saintsations rules and regulations", the letter, seen by the BBC, reads.
Why was she fired?
The "rules and regulations" referred to in the letter are anti-fraternisation policies between dancers and players and semi-nude photos posted on social media.
The NFL team's employee handbook says: "Nude, semi-nude, or lingerie photography is strictly prohibited and terms for immediate dismissal".
The rule, however, does not apply to Saints football players and is only required for Saintsation cheerleaders.
After she was let go, Davis hired a lawyer and filed a discrimination complaint against the NFL team with the US Equal Employment Opportunity Commission (EEOC).
Davis' lawyer, Sara Blackwell, told the BBC that she believes the policy unfairly targets women.
"The Saintsations should be treated as athletes, which is what they are," she said. "This is a clear discrimination based on gender."
She added that players can post photos in their underwear on social media, so cheerleaders should be allowed to as well.
Blackwell, who filed a complaint on Friday, said the next step will be to send a letter to the NFL commissioner Roger Goodell to request a hearing.
Davis is also challenging the Saints for their claim she broke anti-fraternisation rules, which she said was another reason for her dismissal.
The former cheerleader said she was called into the team's human resources office and was told she had violated the policy by attending a party with Saints players, which is prohibited for members of the dance squad.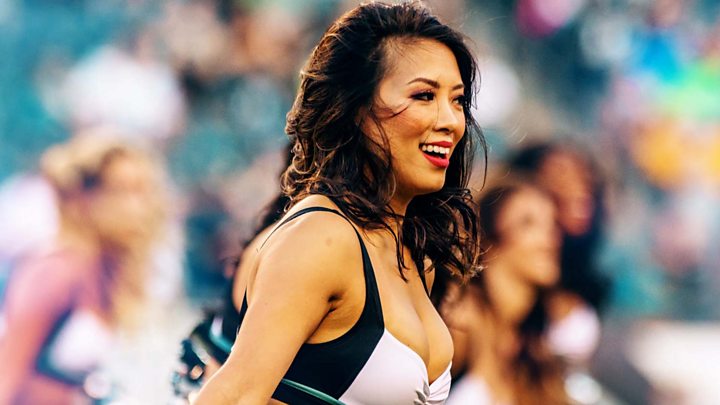 Davis denied the allegation, but the rumours persisted.
After she posted a lingerie photo, her coach texted her: "Very poor judgement to post a picture like that especially considering our recent conversations about the rumours going around about you. This does not help your case. I'd expect you to know better."
You may also be interested in:
'Predatory' football players
In addition to strict guidelines ensuring their social media is "tasteful, respectful, and classy", cheerleaders are also responsible for blocking players who follow or contact them.
In January 2018, the Saints reminded the all-female dance squad that their social media pages must be in "private mode", according to an email obtained by the BBC.
Davis said they were also told to remove their last names from their Instagram accounts to avoid being found online by football players.
"In an effort to protect you from player advances and activity that can be deemed suspicious it is in your best interest that as long as you are a Saintsation you do not follow any players or coaches at all," coach Ashely Deaton said in an email.
She said cheerleaders could not like or comment on anything posted online about specific Saints players, though following team accounts was fine, according to the email.
"Any such activity will likely give them the impression that you are available to their advances," she wrote.
Davis said that by framing the players as predators the Saints were doing a disservice to both cheerleaders and football players.
"It's completely discriminating because it's our job to make sure they behave themselves. The players have never harassed us," said Davis. "The organisation is trying to make them seem like they are predators."
The New Orleans Saints declined to provide a comment to the BBC.
Attorney Gregory Rouchell, who represents the NFL team, said in a statement to the Hattiesburg American newspaper: "The New Orleans Saints is an equal opportunity employer, and it denies that Ms Davis was discriminated against because she is female. The Saints will defend these allegations in due course, and the Organisation is confident that its policies and workplace rules will withstand legal scrutiny."
What are the other rules for cheerleaders?
If a Saints player is to walk into a bar or restaurant, cheerleaders are required to leave the establishment or risk losing their job, according to a copy of Davis' complaint.
Davis' lawyer said this is one of many rules that unfairly controls the actions of dancers, who all happen to be women.
"Bailey is an advocate for women being treated equally. We're hoping this can help other women fight to break the glass ceiling," Blackwell said of her client.
According to the complaint, other rules for cheerleaders in the Saints' handbook include:
Dancers will make no public appearances or post photos on the internet wearing Saintsation cheerleader uniform
Members shall not date or fraternise with any player, coach or management personnel
Socialising in close proximity with players will result in immediate termination
Social media accounts must not identify Saintsation dancers as members of the team
Game day make-up and hair cuts must be approved by the team director
It is unclear how many similar rules exist for cheerleaders working for other NFL teams.
However, the Saints are not the first team to come under scrutiny for their treatment of cheerleaders.
The Buffalo Bills were widely criticised for forcing cheerleaders to do a "jiggle test" to see if they were slim enough.
Blackwell said the strict crackdown on social media accounts makes it difficult for cheerleaders to build their personal brand while dancing.
"The players, who already make a ton more money, can have public profiles where they show off their physique and wear Saints uniforms. They're allowed to promote themselves, but the dancers are not," she said.