Trump sons proclaim love for dad after Jeb Bush 'dig'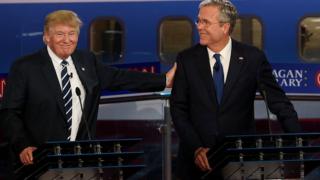 Donald Trump's sons have lashed out at their father's former rival, Jeb Bush, after he was accused of saying the US president's children do not love him.
Mr Bush said during a speech at Yale University this week that after losing the 2016 White House race he went home to children "who actually love me".
The student newspaper reported the former Republican candidate's comment as a swipe at Mr Trump.
Both Eric and Donald Trump savaged Mr Bush on Twitter.
Eric tweeted: ".@JebBush I actually love my father very much. #PleaseClap".
#PleaseClap is a reference to a 2016 speech by Jeb Bush in which he asked a silent crowd to applaud him.
Donald Jr also tweeted about his love for his father, taunting Mr Bush for losing the presidential race.
It is not clear whether Mr Bush's remark was aimed at Mr Trump's family.
Jeb Bush's son, George P Bush, is up for re-election in Texas for land commissioner. He was recently endorsed by the president after publicly aligning himself with Mr Trump.
Mr Bush was at Yale University on Tuesday giving a speech titled, A Conversation with Jeb Bush: Restoring Conservatism in America.
As the brother of former President George W Bush and son of President George H Bush he entered the Republican primary as a frontrunner only to be steamrolled by Mr Trump on his way to the general election.
At the Yale event, Mr Bush said he was "not going to talk about the 2016 election", according to the Yale Daily News.
"I'm still in therapy," he joked to the crowd.