Noor Salman: Pulse nightclub shooter's widow not guilty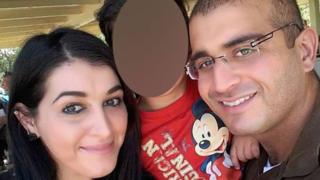 The widow of a gunman who killed dozens at a Florida nightclub two years ago has been found not guilty of helping him.
Noor Salman, 31, was charged with obstruction of justice and aiding Omar Mateen in providing support to the Islamic State militant group.
Her lawyers had argued that she was an innocent victim of her husband's lies.
Mateen killed 49 people at the Pulse nightclub in June 2016 before he was shot dead by police.
Who was the Orlando club gunman?
She could have faced life in prison if found guilty.
The 12-member jury returned their verdict on Friday morning on their third day of deliberations.
Ms Salman sobbed as the verdict was read while her relatives hugged, according to the Orlando Sentinel.
Defence lawyer Charles Swift had said in his closing argument: "She doesn't go to the mosque, she searches for Hello Kitty on her website.
"We're supposed to believe she had long conversations with Omar Mateen about jihads?"
Her attorneys also argued she was a victim of a "tragic marriage" to Mateen, with no prior knowledge of the attack.
Mateen, a US citizen who had been known to the FBI since 2013, entered the venue after midnight and opened fire with an AR-15 semi-automatic rifle, holding people hostage in the bathroom before dying in a gun battle with police.
His father, Seddique Mateen, said a possible motive for the attack might have been his son's outrage at seeing two men kissing in Miami.
During the trial it came to light that Seddique Mateen was a confidential FBI informant and is now under investigation for money transfers to Turkey and Afghanistan days after the attack.
"Omar Mateen is a monster," another defence attorney, Linda Moreno, told the jury.
"Noor Salman is a mother, not a monster. Her only sin is she married a monster."
During the attack, Ms Salman was at home with the couple's three-year-old son.
After the verdict was announced, Al Salman, her uncle, addressed reporters outside the courthouse.
"Now, we're looking forward to taking my niece and hiring a therapist for her," Mr Salman said.
"I don't know how she's going to make up for the last two years," she spent in prison, he said.
More than 100 advocacy organisations signed a letter supporting the release of Ms Salman from prison.
"The prosecution of Ms Salman is rooted in gendered Islamophobia and patriarchy," the letter read.
Orlando nightclub shooting: How the attack unfolded
But prosecutors pointed to a statement Ms Salman made to the FBI after her arrest in January 2017, that she knew her husband was going to do something violent.
On Monday, that statement to the FBI was shown to the court.
"I wish I had done the right thing but my fear held me back.
"I wish I had been more truthful," she wrote.
Detectives also said Ms Salman "knowingly misled" FBI interrogators in the hours after the attack.
Special Agent Ricardo Enriquez said Ms Salman had confessed that her husband had bought a weapon and was watching Islamic State group videos.
Near the end of the trial, a forensic clinical psychologist, testified that low intelligence, stress, and lack of sleep can contribute to false confessions.
She had been interviewed by officials for 11 hours, and her IQ score is 84, making her "below average in intelligence," said Bruce Frumkin.
Orlando police released a statement after the verdict was announced.
"I believe in our criminal justice system and am grateful for the jury's hard work," Chief John Mina said.
But he added: "Nothing can erase the pain we all feel about the senseless and brutal murder of 49 of our neighbours, friends, family members and loved ones."