Tesla in fatal California crash was on Autopilot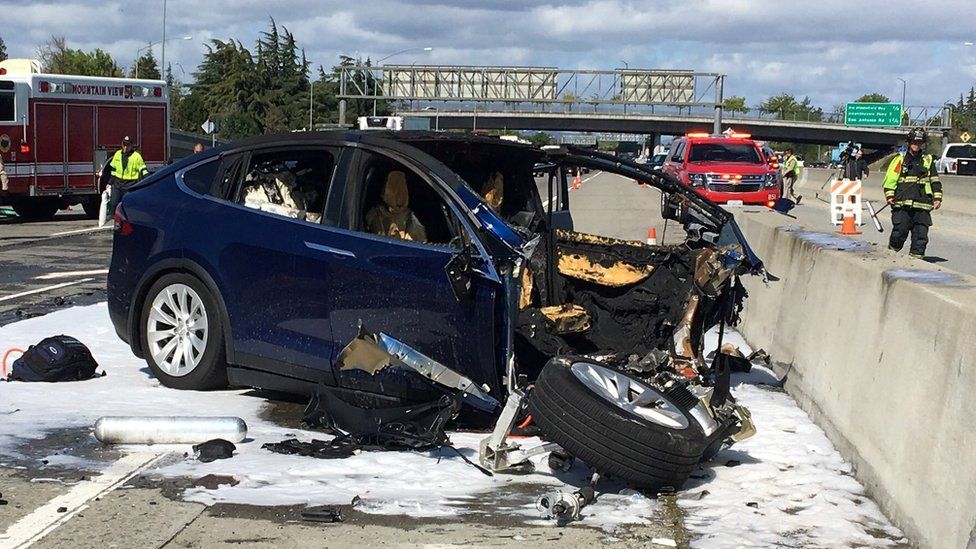 Electric carmaker Tesla says a vehicle involved in a fatal crash in California was in Autopilot mode, raising further questions about the safety of self-driving technology.
One of the company's Model X cars crashed into a roadside barrier and caught fire on 23 March.
Tesla says Autopilot was engaged at the time of the accident involving the driver, 38, who died soon afterwards.
But they did not say whether the system had detected the concrete barrier.
"The driver's hands were not detected on the wheel for six seconds prior to the collision."
"The driver had about five seconds and 150m (490ft) of unobstructed view of the concrete divider... but the vehicle logs show that no action was taken," the statement added.
Tesla's Autopilot system does some of the things a fully autonomous machine can do. It can brake, accelerate and steer by itself under certain conditions, but it is classified as a driver assistance system, is not intended to operate independently and as such the driver is meant to have their hands on the wheel at all times.
It led the company to introduce new safety measures, including turning off Autopilot and bringing the car to a halt if the driver lets go of the wheel for too long.
The accident in California comes at a difficult time for self-driving technology.
Earlier this month, Uber was forbidden from resuming self-driving tests in the US state of Arizona.
It was thought to be the first time an autonomous car had been involved in a fatal collision with a pedestrian.
The company suspended all self-driving tests in North America after the accident.