California teen rescued after falling in sewage pipe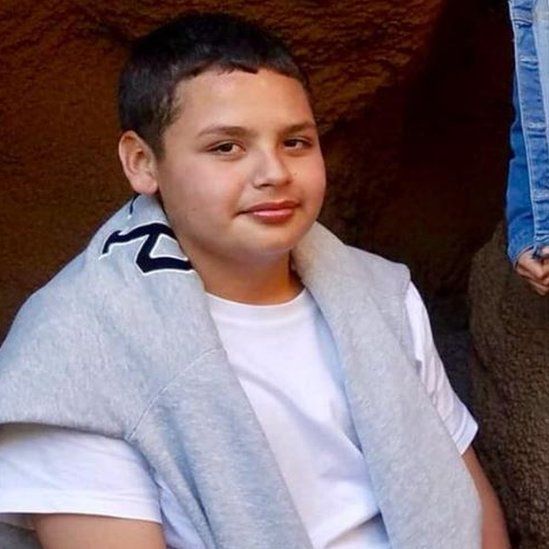 A 13-year-old Los Angeles boy who went missing after falling into a sewage pipe on Easter Sunday has been rescued.
Jesse Hernandez was removed from a manhole 13 hours after becoming trapped while playing in an abandoned concrete building in Griffith Park.
Officials said he survived by finding an air pocket in the four-foot wide (1.2m) sewage pipe.
Jesse, who was found "alert and talking", is receiving medical attention, authorities say.
"It's with happy hearts that all Los Angeles city agencies are able to state that we have found Jesse Hernandez," Los Angeles Fire spokesman Captain Erik Scott said at a news conference on Monday morning.
He added it was a "miracle" that Jesse survived the ordeal.
The boy had been attending an annual Easter holiday picnic with his family and had reportedly climbed a chain-link fence in order to play in an abandoned concrete building.
A wooden plank that he was standing on broke, plunging the teenager 25ft down and into the pipe, the fire department said.
Update #Rescue; 6:21PM; 5254 W Zoo Dr; #Hollywood; A tremendous team effort over the past 12 hours resulted in the best outcome, Jesse Hernandez was found alive this morning. Yesterday at approximately 4:30PM, the LAFD received ... https://t.co/eUoDBF1PI4

— LAFD (@LAFD) April 2, 2018
Officials say they searched about an area of about 2,400ft and sent a camera attached to a flotation device into the sewage pipe, which contains liquid flowing at around 15mph (24km/h).
The pipe was too dangerous for rescuers to enter, authorities said, so they set up at different drainage areas in hopes of finding where the boy would be flushed out.
"We don't know where the drain pipe goes to," he added.
When Bureau of Sanitation officials opened one manhole cover to insert a camera under the busy Interstate 5 highway corridor, they were able to see Jesse, authorities said.
The boy was immediately given a mobile phone to call his family to tell them he was safe, officials said, adding that at least 20 of his family members were present for search efforts on Sunday night.
"The expertise of the Bureau of Sanitation was instrumental in this search," Los Angeles Fire Dispatcher Margaret Stewart said in a statement.
"From start to finish, this was an unprecedented team effort."