Ethan Couch: 'Affluenza' teen released from jail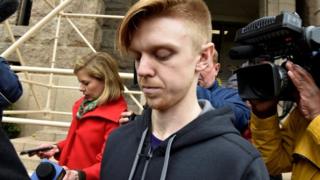 A young Texas man who initially avoided jail time in a deadly drink-driving case by invoking "affluenza" has been released from jail after two years.
Ethan Couch, 20, made headlines in 2013 when his lawyer blamed "affluenza", arguing his client was too rich and spoiled to tell right from wrong.
Couch was found guilty of drink-driving, which left four people dead.
He initially avoided prison and was given probation. He was later jailed when he violated his sentence.
Couch will now serve six years of community supervision, his lawyers Scott Brown and Reagan Wynn said after his release on Monday.
"From the beginning, Ethan has admitted his conduct, accepted responsibility for his actions, and felt true remorse for the terrible consequences of those actions," his legal team said in a statement.
"Now, nearly five years after this horrific event, Ethan does not wish to draw attention to himself and requests privacy so he may focus on successfully completing his community supervision and going forward as a law-abiding citizen," the lawyers' statement continued.
In 2013 a youth court sentenced the then 16-year-old to 10 years of probation for the 15 June 2013 crash which killed four people.
He was also forced to attend drug rehabilitation as part of the conviction for intoxicated manslaughter.
Medical tests concluded that Couch was drunk, as well as high on marijuana and prescription medication when he crashed his truck into an SUV that had become stranded on the side of the road.
Four people were killed and nine others were injured in the crash on a rural road in Burleson, Texas - 45 miles (70km) southwest of Dallas.
During his trial, a psychologist for his defence argued that the teenager suffered from "affluenza" - being so spoiled by his wealthy parents that he was unable to distinguish right from wrong.
The judge's sentence, which allowed him to avoid jail, drew outrage from the victim's family and anti-drink driving groups.
After Couch was filmed drinking alcohol at a party in 2015 - a violation of the terms of his probation - he and his mother fled to Mexico.
They were found in the resort town of Puerto Vallarta, and flown back to the US where the teenager was ordered to jail for 720 days.
His mother, Tonya Couch, was charged with hindering apprehension of a known felon and money laundering, but was released after posting bond.
Last week the 50-year-old failed a court-ordered drug test and was arrested.
She was booked into the same jail as her son, only days before he was released.
Mothers Against Drunk Driving (Madd) released a statement before Couch's release, saying its a "small consolation" that he still must serve probation for six years.
"Two years in jail for four people killed is a grave injustice to the victims and their families who have been dealt life sentences because of one person's devastating decision to drink and drive," the Madd statement said.
As part of the terms of Couch's probation, he will be required to wear a GPS-enabled tracker that will monitor him for any alcohol use, which is banned.
He must also remain at home between 21:00 and 06:00 everyday.