Waterslide designer arrested after boy killed on ride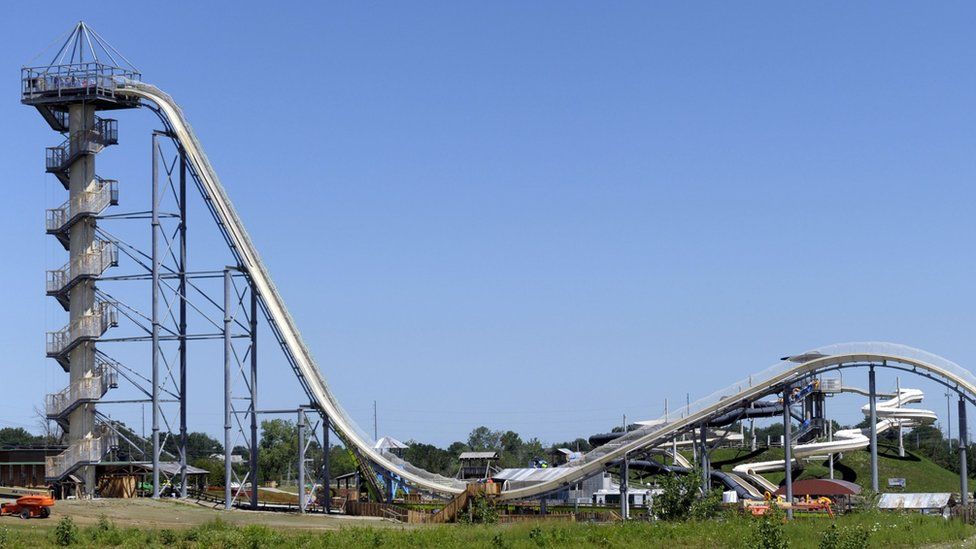 The designer of a Kansas waterslide, on which a 10-year-old boy was killed in 2016, was arrested at a Texas airport on charges of second-degree murder.
John Schooley, 72, was detained in Dallas after arriving on a flight from China, the US Marshals Service said.
Criminal charges have also been filed against the Schlitterbahn Water Park's construction team and two executives.
Caleb Schwab was killed when the three-person raft he was riding down the 168ft (51m) slide went airborne.
The boy, son of state politician Scott Schwab, suffered head injuries when the raft collided with a metal hoop, which held netting to keep passengers from flying off the slide.
Two other women were also injured in the incident at the Kansas City water park.
The water park's spokeswoman Winter Prosapio said in a statement on Tuesday the indictment against the Mr Schooley and others "is filled with information that we fully dispute" and the boy's death was result of an accident and not of a crime.
In charge papers filed in March, prosecutors accused two park executives and two related companies of rushing to the complete the waterslide - the Verruckt - in order to impress a Travel Channel television programme.
The Verruckt was billed at the time as the world's tallest water slide.
Mr Schooley, Schlitterbahn Water Park co-owner Jeffrey Henry and the construction firm responsible for the ride face a second-degree murder charge.
They also face 17 other serious charges related to injuries sustained by other riders - including aggravated battery and aggravated endangerment of a child.
The park's former director of operations, Tyler Austin Miles, is charged with involuntary manslaughter, and has been released pending trial.
The slide in Kansas City is now closed, and is awaiting demolition. The park says they still plan to open as normal in May.
Mr Schooley, is being held without bond and awaiting extradition to Kansas.
The prosecutor's indictment claims that "not a single engineer was directly involved in Verruckt's dynamic engineering or slide path design".
It added that examiners believed that the Verruckt ride "violated nearly all aspects of the longstanding industry safety standards" and that those responsible for the ride's operation, including the Schlitterbahn company, attempted to conceal information from law enforcement.
Ms Prosapio disputed the claim, telling the Washington Post in a statement: "The accusation that we withheld information or altered evidence is completely false. We have operated with integrity from day one at the water park - as we do throughout our water parks and resorts."
Officials claim that Mr Schooley and Mr Henry then began "secretly testing at night to avoid scrutiny".
They also argue that the decision to build the slide - which means "insane" in German - was made "spur of the moment".