Trump 'backs' EPA chief Scott Pruitt amid ethics scrutiny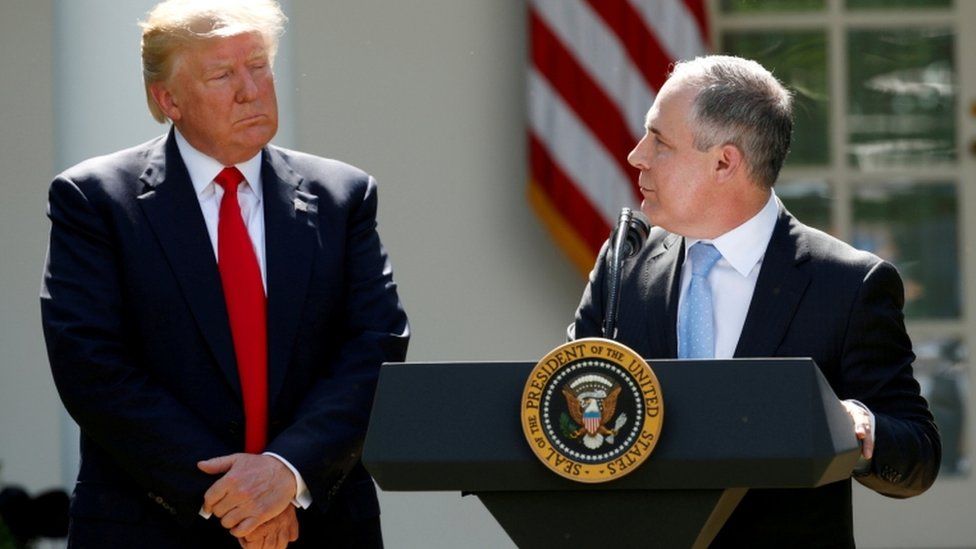 US President Donald Trump has offered his support to the US Environmental Protection Agency (EPA) chief amid ethics concerns, US media report.
"We got your back," he reportedly told Scott Pruitt on Monday. Mr Trump's chief of staff John Kelly also called Mr Pruitt to reassure him.
The White House is reportedly investigating Mr Pruitt over conduct.
The EPA chief has come under scrutiny for renting a flat linked to a Washington energy lobbyist.
A White House official confirmed to Reuters that the calls took place but gave no details of what was said.
The president told Mr Pruitt to "keep his head up" and to "keep fighting", according to US media.
The Wall Street Journal reported on Monday that the White House was reviewing Mr Pruitt's conduct over reports he rented a flat owned by the wife of an energy lobbyist for the below-market cost of $50 (£35) per day.
During that time, an oil pipeline project linked to that lobbyist's firm was approved for expansion.
The EPA has denied that Mr Pruitt violated any laws through the arrangement.
"As EPA career ethics officials stated in a memo, Administrator Pruitt's housing arrangement for both himself and family was not a gift and the lease was consistent with federal ethics regulations," EPA spokesman Jahan Wilcox said.
The EPA's senior ethics counsel, Justina Fugh, on Friday described the deal as "a routine business transaction and permissible even if from a personal friend".
Under the lease agreement, Mr Pruitt was only required to pay for the Capitol Hill condominium on nights when he stayed there. He did not pay an additional fee for his adult daughter to occupy one of the flat's bedrooms as well.
Anthony Zurcher, BBC News, Washington
Donald Trump reportedly gave a pep talk to Scott Pruitt on Monday night, but his public comments on Tuesday shouldn't be much comfort to the embattled EPA head.
"I hope he's going to be great" sounds a lot more like the faint praise that has damned past members of the Trump team who were headed to the political gallows.
The irony is that, up until now, Mr Pruitt has been one of Mr Trump's more accomplished political appointees and a favourite of the president himself. He's taken over an agency much reviled by conservatives and steadily curtailed its power and curbed its workforce. Mr Pruitt has been viewed by environmental groups in particular as a skilled - and dangerous - adversary.
The former Oklahoma attorney general's star had been on the rise in the Trump administration, and his ambition - perhaps as a future US attorney general - was common knowledge in the US capital. Now, however, he may become only the latest Trump cabinet selection felled by an ethical scandal.
Mr Pruitt has also come under fire for his use of private security detail and frequent taxpayer-funded travel, including first-class airline tickets on short domestic flights.
He has defended his travel, saying that it was due to "certain security protocols" and death threats that he has received.
White House support for Mr Pruitt comes days after Veterans Affairs Secretary David Shulkin was forced out amid ongoing ethics concerns over his travel. It was the latest in a series of departures from Mr Trump's cabinet.
According to US media, Mr Pruitt had also disregarded a White House directive not to provide salary raises for two of his political aides.
Mr Pruitt used an obscure provision in the Safe Drinking Water Act to boost pay for the aides, the Atlantic and Washington Post both reported on Tuesday.
The former Oklahoma Attorney General has long been a strong critic of the EPA before joining the agency, and has called for many regulations to be scrapped.
In a public appearance on Tuesday morning, Mr Pruitt announced a rollback on an Obama-era measure to further restrict vehicle emissions.