How YouTube shooting unfolded on social media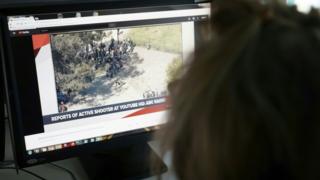 The shocking events at the headquarters of one of the world's biggest technology names YouTube quickly emerged on social media.
Employees of the firm live-tweeted their rush to escape from the campus in San Bruno California.
Comments and footage were posted to Snapchat, Twitter and Instagram, showing workers streaming out of the building and armed police going in.
Within minutes of news breaking, Todd Sherman, a Product Manager at the video giant, posted an account of his escape on Twitter.
Then Mr Sherman said he and his colleagues headed towards the exit and someone told them there was a person with a gun.
He then looked down and saw blood on the floor. He looked around for potential threats and headed down the stairs and out of the front of the building.
Another employee, Vadim Lavrusik, said he was initially barricaded with colleagues, then escaped.
Other YouTube workers hurriedly used their social media accounts to tell people they were safe.
People who knew those inside posted screenshots of WhatsApp and text conversations with panicked colleagues.
Posts tagged into the location on Snapchat showed police responding at the scene, and evacuating employees.
Users who work close to the YouTube HQ said that they had also been put under lockdown.
Others nearby posted images of the scene and emergency response.
Student activists from the Parkland shooting used social media to share their solidarity with the video sharing company.