YouTube HQ shooting: fake news spreads on social media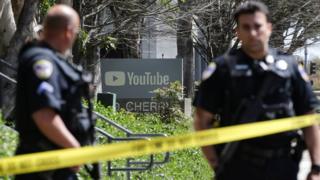 News of the shooting at the YouTube headquarters spread quickly on social media, but while most users were sharing information about the unfolding events others were maliciously posting fake news.
Among the real eyewitness accounts and footage of the emergency, some users started to post fake allegations about the identity of the shooter, made up claims that friends had gone missing in the area and spread misinformation.
The gun attack in San Bruno, California, left a man and two women injured with gunshot wounds. The attacker, named by police as Nasim Aghdam, shot herself dead.
During the shooting, Vadim Lavrusik, a YouTube product manager and a verified Twitter user, used the platform to live-tweet the latest developments from inside the headquarters.
However, after Mr Lavrusik tweeted to say he and his colleague were safe, a hoaxer gained access to his Twitter account.
The hacker tweeted misinformation and homophobic content, including a bogus claim that his friend had gone missing after being caught up in the shooting.
Many people on Twitter flagged up the hacked tweets to moderators which prompted Twitter chief executive Jack Dorsey to step in to get the hoax tweets removed.
After being led to safety, Mr Lavrusik tweeted to say he had got his account back.
There were rumours circulating that David Hogg, who survived the Parkland shooting in February, was on his way to the YouTube headquarters.
Hogg has been a target of online abuse since he and his fellow classmates advocated for tighter gun control laws in the wake of the attack.
Other people posted an image of US comedian Sam Hyde, claiming he was the alleged gunman, but people dismissed it as a common hoax.
The image of Hyde has been re-circulated after a large number of mass shootings in the US in the last few years.
He has been accused frequently online as the perpetrator of recent shootings, including the attacks last year at a concert in Las Vegas and at a church in Texas.
Even Jane Lytvynenko, the BuzzFeed reporter who covers online misinformation including the YouTube shooting, was dragged into the mess.
It is not the first time that social media platforms struggled with misinformation and fake images during breaking news events.
After the shooting, Twitter's Dorsey addressed the issue of fake news on his social media platform.
Written by UGC and Social News team