Saudi 'Prince Charming' Mohammed bin Salman comes to Hollywood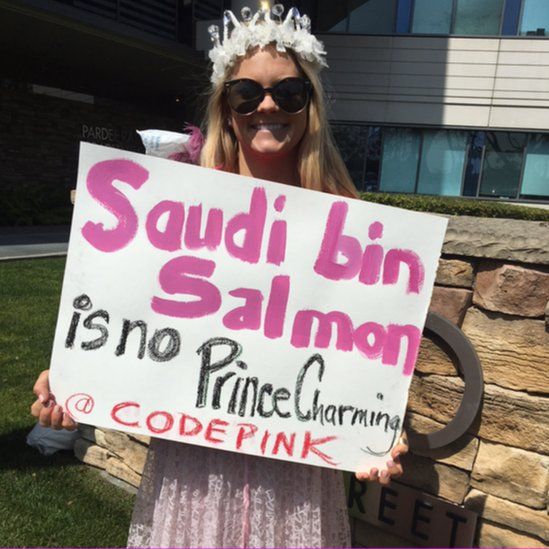 Saudi Arabia's Crown Prince Mohammed bin Salman was given a king's welcome in Hollywood this week.
The conservative kingdom's plan to open up to Western entertainment after a 35-year ban had Hollywood's top executives jockeying to make deals with the billionaire crown prince.
Mohammed bin Salman, or MBS as he's also known, dined at media mogul Rupert Murdoch's house along with studio heads and actor Dwayne "The Rock" Johnson.
In a Facebook post about the dinner, The Rock said he was humbled to discover he has so many young fans in Saudi Arabia.
"I look forward to my first visit soon to Saudi Arabia," Johnson wrote. "I'll be sure to bring my finest tequila to share with the (sic) his Royal Highness and family."
Tequila and The Rock in Saudi Arabia? Alcohol is banned in Saudi Arabia and punishable by lashes.
But the times they are a-changing. That's how it looked at the Four Seasons in Beverly Hills.
The prince's vast entourage took over the entire hotel where everything from the music to the menus had a Saudi flare this week.
They also hosted a summit there on the future of entertainment in Saudi Arabia. It was packed with hundreds of Hollywood insiders.
While a handful of activists demonstrated throughout the prince's trip to protest the Saudi-led bombing of Yemen and the way women are treated in Saudi Arabia, Hollywood was shown a slick, modern version of the country ready for change under the direction of the 32-year-old crown prince.
As a result, Saudis can expect to see some Hollywood blockbusters at a cinema near them soon.
AMC, the biggest movie chain in the US, plans to open 30 cinemas in the kingdom - the first one later this month. Saudis can also expect to see Disney on Ice and Cirque du Soleil coming soon.
Rick Licht, the CEO of Hero Ventures, attended the summit carrying Thor's hammer from the Avengers movie.
His company is bringing the travelling theme park, The Marvel Experience, to Saudi Arabia before the end of the year.
"Our hosts today have been absolutely spectacular and I hope we're going to be able to do this for many years to come over there," Mr Licht said.
In a slick promotional video, The General Entertainment Authority of Saudi Arabia used "change" as a theme - and highlighted the fact that nearly 70% of Saudi Arabia's 32 million people are under the age of 30. And they're hungry for entertainment.
But not everyone was impressed with the royal treatment given to the Saudi delegation.
Feminist peace activists from Code Pink demonstrated outside many of the prince's meetings to tell people about the Saudi-led bombing of Yemen, which has killed 10,000 people and displaced about two million other people.
Outside the Rand Corporation, one protester carried a sign saying "bin Salman is no Prince Charming."
Many activists noted that Hollywood is already battling its own problems with sexism and it shouldn't be making deals with a country so restrictive to women.
Oscar-nominated actress Shohreh Aghdashloo says she's hopeful the young prince could end the war in Yemen and help mend ties between Saudi Arabia and its most bitter enemy - her native Iran.
Saudi Arabia and Iran are engaged in a rivalry for power and influence in the Middle East - and Yemen is home to the most destructive of their proxy wars.
"Hollywood loves princes and princesses. Hollywood creates princes and princesses," says Ms Aghdashloo.
"But I wish the prince would have started with Yemen" and not Hollywood, she adds.
"Most probably Hollywood is probably overwhelmed with his presence because they know they can do a lot together with his power, with his money, with his ambition," she said over coffee at Jerry's Deli in Los Angeles.
"If he says that he is going to open theatres in Saudi Arabia and if he does so then we are halfway through. Bringing awareness to people will make them become more aware of their situation and be more willing to make their place a better world to live in. Art can save lives."
Young Saudis in Los Angeles were also optimistic about the crown prince's modernisation.
The ban on women driving in the kingdom is being lifted and some can now leave their home without a male chaperone. The country is also opening up to tourist visas - although women under 25 who want to travel to Saudi Arabia will require a male chaperone.
At a technology event hosted by the prince's foundation, young Saudi women in LA said his reforms have already greatly changed their future.
One student, who did not want to be identified, said "no" when asked if she wanted to see more rights for women in Saudi Arabia.
"It's already happened. Most of the things we want are already in place," she said.
"It's a great step for women. Driving, all the new regulations for women. It's a great opportunity for us."
You might also be interested in: