Hundreds protest after New York police kill man wielding pipe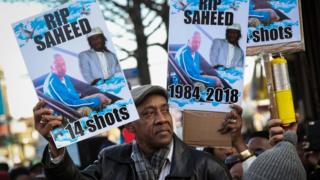 Hundreds of people took to the streets in Brooklyn, New York a day after police shot and killed a black man with mental health issues.
Saheed Vassell, 34, was shot dead on Wednesday after police received calls of a man who appeared to be wielding a silver pistol and aiming it at people.
Officers and bystanders mistook the metal pipe in his hands for a gun, the New York Police Department (NYPD) said.
"If he was a white kid, he would not have died," his aunt, Nora Ford said.
"Oh my God - I'm so angry," she added during the Thursday night vigil not far from where Vassell died in the Crown Heights neighbourhood.
Video released by police show that in the moments before his death, Vassell had been brandishing the bent pipe like a gun and had pointed it at people on the street.
Directly before officers fired off 10 gunshots, Vassell put both hands on the pipe and aimed it at them in a way that police later described as a firing stance.
"The suspect took a two-handed shooting stance and pointed an object at the approaching officers, two of whom were in uniform," NYPD Chief of Department Terence Monahan said at a news conference, adding that they had received multiple 911 calls from onlookers.
None of the officers were wearing body cameras at the time of the incident.
Mayor Bill de Blasio said the "officers responding only understood, for the best of our knowledge so far, they were dealing with a situation of someone armed who had been aiming that weapon".
But on Thursday night, protesters said that Vassell was never commanded by officers to drop the weapon.
"If the police saw something in his hand, tell him 'drop it - hold your hand up,'" his mother, Lorna Vassell, said during the vigil-turned-protest.
Witness Jacccpot Hinds told CBS News: "I seen the police car [come] in, police jump out and pop, pop, pop, pop".
"They didn't say 'freeze,' 'stop,' do anything, 'put your hands up,' nothing. Straight gunfire come out the gun."
Vassell's parents said their son was bipolar, but would not harm anyone.
State Senator Jesse Hamilton, who represents Crown Heights, demanded that Vassell's death be properly investigated.
"We are mad. Too many of our young men are dying on our streets," Mr Hamilton told the crowd as they gathered outside the police 71st Precinct, shutting down multiple lanes of traffic.
"‪Having a mental health issue shouldn't be a death sentence," he added.
Several New York protesters noted that Vassell's death came as the nation marked the 50th anniversary of the murder of civil-rights hero Martin Luther King Jr.
The New York Attorney General's office said in a statement on Thursday that its Special Investigations and Prosecutions Unit "has opened an investigation into the death of Saheed Vassell".
"We're committed to conducting an independent, comprehensive, and fair investigation," the statement said.
According to police, Vassell had 23 prior arrests, including several violent incidents.
He had also been issued 120 police summonses, and had "at least one contact with police where he was described as emotionally disturbed", WABC-News network reports.
Protests have also recently erupted in California over the killing of Stephon Clark, a black man who was holding a mobile phone in his hand when he was shot more than seven times in the back last month.
Clark was in the backyard of his grandmother's Sacramento home when he was shot dead by police.