Menendez brothers convicted of killing parents reunite in jail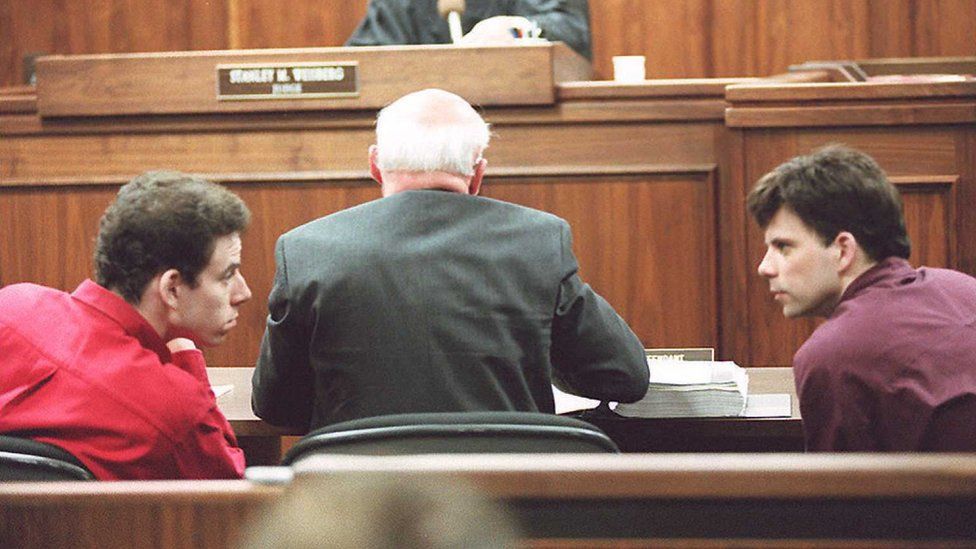 The Menendez brothers, who once shocked the United States with the brutal killing of their parents, have reunited behind bars more than two decades after they were convicted for murder.
The widely-watched double murder trials, including a mistrial, of Erik Menendez, 47, and Lyle Menendez, 50, gripped the country during the 1990s. They are serving life sentences for the 1989 killings.
The brothers, ages 18 and 21 at the time of the killings, shot their wealthy parents Jose and Kitty Menendez at point-blank range in their Beverly Hill mansion.
They reportedly "burst into tears" upon their first meeting on Wednesday in a San Diego prison housing unit.
"They can and do interact with each other, all the inmates in that facility," state corrections department spokeswoman Terry Thornton told the Associated Press on Thursday.
As partners in crime, the brothers had been deliberately kept apart since the last time they saw each other in 1996.
Prosecutors argued during the high-profile trial that the the young men had killed their successful parents to inherit their multi-million-dollar estate.
The brothers' defence lawyers claimed that it was revenge for sexual abuse, but no molestation was ever proven in court.
Their father, a 45-year-old Hollywood executive, was shot six times with a shotgun the brothers had purchased days before the attack.
Their mother died after suffering 10 shotgun blasts to several parts of her body.
The two told police they had returned home to find their slain parents.
They were arrested after the girlfriend of a psychologist that had been treating Erik Menendez went to police to say that he had physically threatened the doctor.
Taped sessions with the doctor, in which the killings were discussed, were later ruled admissible in court by a trial judge.
The trial began in 1993 and resulted in two deadlocked juries in 1994 before the case was retried in 1995.
Separated for more than 20 years
The two were separated during their detention after a detective who investigated the slayings said they may conspire to escape if housed together.
In February 2018 Lyle Menendez was moved from the from Mule Creek State Prison in Northern California to San Diego's RJ Donovan Correctional Facility, after his security level was lowered.
The prison houses 3,900 male inmates, but the two were not kept in the same unit and were unable to interact with each other before Wednesday.
According to Robert Rand, a journalist who has covered the case since 1989 and was a consultant for a 2017 television programme about the brothers, the pair both "burst into tears immediately" upon their reunion.
While serving time in separate prisons, the two had been banned from talking on the phone, he told ABC News.
But they reportedly wrote letters and played chess by sending their moves through the mail, according to Mr Rand.
He also spoke about his mother to NBC's Today programme in September.
"I love my mother, and I still cry over my mother, and I don't forgive her,'' he told NBC.
"Her life ended and our lives essentially ended all because of this fateful decision. There had to be a series of decisions she made of not to tell what was happening.
"What kind of mother lets it happen?"