In the US, you don't have to kill to be a murderer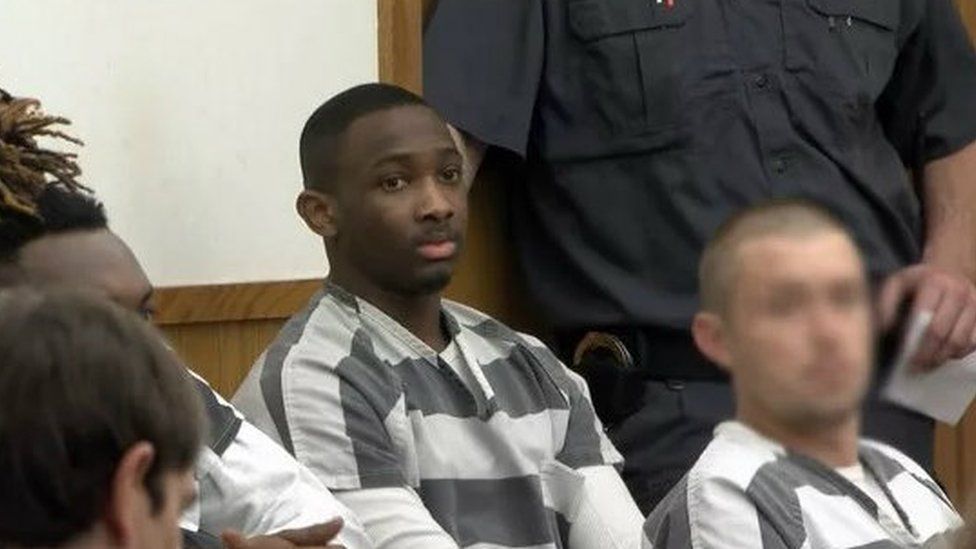 After police killed a burglary suspect in a shootout, the officer was not charged - instead a teenage boy who did not fire the gun has been found guilty of his murder. How do accomplice liability laws work?
Lakeith Smith was 15 years old when he went along with four older friends on a burglary spree. A neighbour called police when the group went into a home in Millbrook, Alabama, and the responding officers surprised the teenagers as they were coming through the front door.
The group turned and fled out the back door, and a shootout ensued. When it was all over, 16-year-old A'Donte Washington was dead with a bullet wound to his neck.
It's never been in dispute that a Millbrook police officer shot and killed Washington - officer-worn body cameras captured the fatal confrontation. A grand jury declined to charge the officer, finding that the shooting was justified.
Instead, Smith was charged and found guilty of his friend's murder. Last week, a judge sentenced him to 65 years in prison. Under Alabama's accomplice liability law, Smith is considered just as culpable in Washington's death as if he had pulled the trigger himself.
"It's sad in my opinion," says Smith's defence lawyer, Jennifer Holton. "The cause of death was the officer's action."
Alabama's law is an example of so-called felony-murder laws and they are very common throughout the US - only seven states do not have some type of law that expands the definition of murder to include an unintentional killing in the course of committing a felony. These laws also sweep up accomplices who, again, may not have directly caused harm, but were still a party in the felony that preceded the death.
While rooted in English common law, felony-murder is a rare concept outside of the US.
In the UK, the "joint enterprise" law can be used to convict an accomplice in a murder, but it applies mostly to gang-related crimes. The UK Supreme Court narrowed its application in 2016, ruling that the person must have "foresight" and "intention" to be found guilty of the killing.
"Felony-murder is a lovely American fiction," says Michael Heyman, professor emeritus at the John Marshall Law School in Chicago. "It's a fiction in that it attributes a killing to you that you need not have done by your own hand."
For example, if a victim has a heart attack and dies while being robbed, the perpetrator can be charged with murder even if he had no intent to kill. If the robber's friend was sitting in a getaway car a block away, under accomplice liability, he too can be charged with murder. One of the most famous examples involved a man convicted of murder for loaning his car to friends who went on to murder an 18-year-old girl. According to prosecutors, it didn't matter that he was 30 minutes away.
These laws make cases like Smith's surprisingly common, where defendants are charged with the murder of their own accomplices, who can be their friends and even relatives. These often occur in the course of burglaries gone wrong, when the perpetrators are confronted by police or armed homeowners. Recent examples include cases in Georgia, Florida and Oklahoma.
The legal logic has expanded into the opioid crisis, where, in one case, a husband was charged with the murder of his wife for providing her with the heroin that killed her.
What makes Smith's case different, according to Scott Lemieux, a lecturer in the department of political science at the University of Washington, is that Smith went forward to trial instead of pleading guilty.
"These really long sentences are used to put pressure on people to plead," he says. "The risk of going to trial is so extreme."
Smith decided to take that risk, turning down a 25-year plea deal, and was found guilty by a jury. The other three surviving suspects have pleaded guilty and are awaiting sentencing. Randall Houston, the district attorney who prosecuted Smith, says he felt the charges and the punishment were appropriate.
"If you're gonna bring a gun and commit a crime and somebody dies, there's consequences in Alabama - it's felony-murder," he says.
Houston points out that at his sentencing, Smith laughed and smiled. Holton, the defence lawyer, says that only shows how young Smith is.
Andre Washington, A'Donte's father, attended Smith's trial, but he didn't sit on the prosecution's side of the courtroom. Instead, he sat with Smith's mother.
"I went there to show him and his family some support. What the officers did - it was totally wrong," says Washington. "I don't feel [Smith] deserves that. No. Not at all."