Trump immigration: Texas sends National Guard to Mexico border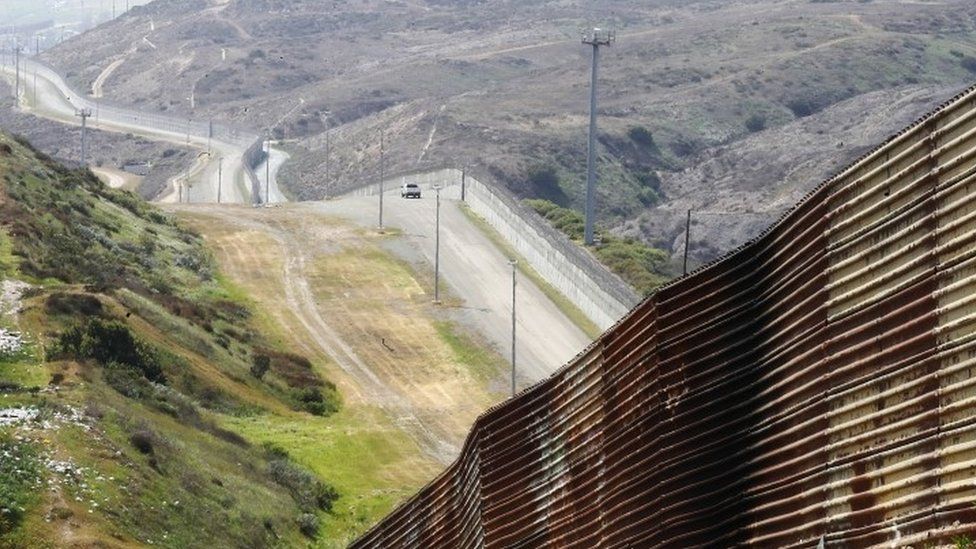 The US state of Texas is deploying National Guard members to the border with Mexico following a call from President Donald Trump.
A Guard spokesman said 250 personnel would be sent to patrol the area within the next 72 hours.
Arizona is also planning to deploy 150 troops there next week.
President Trump says he wants to send up to 4,000 National Guard members to secure the border with Mexico, until his proposed border wall is built.
The states of New Mexico and California have been asked to take similar action to Texas and Arizona.
Also on Friday, the US president outlined plans to end a practice dubbed "catch and release" as part of his stricter anti-immigration policies.
Mr Trump wants illegal immigrants to be held in detention while they wait to hear if they will be deported, instead of being freed.
He has asked the US Department of Defense for a detailed list of military and other facilities that could perform that function.
He declared on Twitter that Republicans should "go to Nuclear Option to pass tough laws [on illegal migrants] NOW".
Mr Trump also threatened Mexico, saying the North American Free Trade Agreement (Nafta) was at risk unless it stopped the movement of migrants over the border.
Mexico is doing very little, if not NOTHING, at stopping people from flowing into Mexico through their Southern Border, and then into the U.S. They laugh at our dumb immigration laws. They must stop the big drug and people flows, or I will stop their cash cow, NAFTA. NEED WALL!

— Donald J. Trump (@realDonaldTrump) April 1, 2018
Mexico's President Enrique Pena Nieto has condemned what he called "threatening or disrespectful attitudes" from Mr Trump.
Is sending troops a first?
The president has called sending troops to the Mexico border a "big step", but both his predecessors also dispatched the National Guard there.
Both deployments lasted for around a year.
US Defence Secretary James Mattis has approved funding for up to 4,000 National Guard troops from the Pentagon budget until the end of September, the Associated Press reports.
When is Trump going to build his wall?
Constructing a "big, beautiful wall" along the Mexican border was a signature Trump campaign promise, but so far the plan to erect a new physical barrier has been thwarted by lawmakers and appears to have stalled.
A major government spending bill which he signed last month included $1.6bn (£1.1bn) for the border wall - far short of the $25bn the White House sought.
And there were strings attached to the funding Congress did approve. Most of it can only be used to repair stretches of the border where there already is a wall, not to build new segments.
Last month the Pentagon confirmed Mr Trump had held "initial" talks with his defence secretary about using some of the Pentagon's budget to build a wall.
Because of the $700 & $716 Billion Dollars gotten to rebuild our Military, many jobs are created and our Military is again rich. Building a great Border Wall, with drugs (poison) and enemy combatants pouring into our Country, is all about National Defense. Build WALL through M!

— Donald J. Trump (@realDonaldTrump) March 25, 2018
But two Democratic senators wrote to the defence secretary on Monday saying his department had "no legal authority" to use its funds for such a purpose.
"Such a controversial move could only be funded by cutting other vital priorities for our service members," wrote Senators Dick Durbin and Jack Reed.
In December, US Border Patrol announced arrests at the southern border had fallen to their lowest level since 1971, apparently indicating that fewer people were attempting the crossing.