Canada crash: 14 killed in Saskatchewan junior hockey team bus crash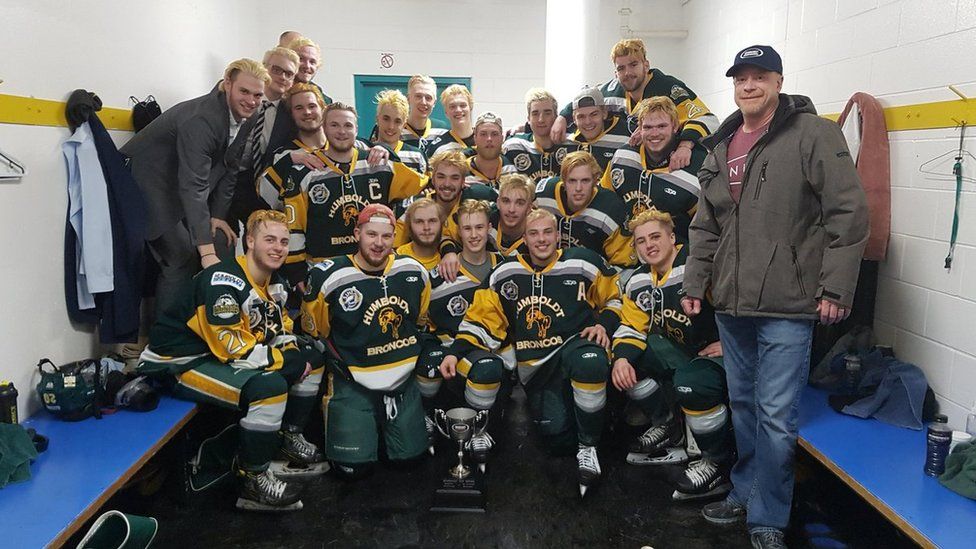 A crash involving a bus carrying a junior ice hockey team has killed at least 14 people and critically injured three others in Saskatchewan, Canada.
The Humboldt Broncos team, which has members aged between 16 and 21, were en route to a play-off game when their bus collided with a lorry on a rural road.
The identities of the dead have not yet been released by officials.
Tributes have been paid across Canada, including by Prime Minister Justin Trudeau, who tweeted his condolences.
"I cannot imagine what these parents are going through," he wrote.
I cannot imagine what these parents are going through, and my heart goes out to everyone affected by this terrible tragedy, in the Humboldt community and beyond. https://t.co/2cIn2CTy08

— Justin Trudeau (@JustinTrudeau) April 7, 2018
What is known about the crash?
The lorry and bus collided on Friday at around 17:00 local time (23:00 GMT) on Highway 35, north of Tisdale in the province of Saskatchewan.
The Royal Canadian Mounted Police said 28 people including the driver were on the bus at the time, and that fourteen people were killed.
Fourteen people who were aboard the bus have been taken to hospital. Three are in critical condition.
The Humboldt Broncos, who play in the Saskatchewan Junior Hockey League, were travelling to a game against the Nipawin Hawks.
"There's uncles and moms and dads waiting to hear whether their sons and nephews are OK."
Myles Shumlanski, father of one of the Broncos players, described the scene as a "disaster" to the Saskatoon Star Phoenix paper.
"We had a crane lifting the bus," he said.
Air ambulances were dispatched to the scene to transport the injured to hospital.
It is not yet known who has died. There were coaches on the bus in addition to team members.
The city of Humboldt, where the team are based, has a population of about 6,000 people.
Photographs on social media showed several of the players comforting each other in hospital.
In the early hours of Saturday, Royal Canadian Mounted Police inspector Ted Munro said rescue efforts were ongoing and said they had set up an information and support centre for families at the Nipawin Apostolic Church.
"Our thoughts and prayers are with the families tonight," he said.
Who else has paid tribute?
News of the crash has shocked Canada, where ice hockey is a national sport and loved by many.
We ask all members of the SaskHockey community to join us in saying a prayer for the the Humboldt Broncos team and their families.

— Saskatchewan Hockey (@sask_hockey) April 7, 2018
"Our Broncos family is in shock as we try to come to grips with our incredible loss," he said.
Scott Moe, the premier of Saskatchewan province, said news of the crash was "difficult to comprehend", while thanking emergency services for their response.
Words can not describe the loss that we feel tonight. The news I have heard is difficult to comprehend. Our province...

Posted by Scott Moe on Friday, April 6, 2018