Two Canada Humboldt Bronco ice hockey crash victims misidentified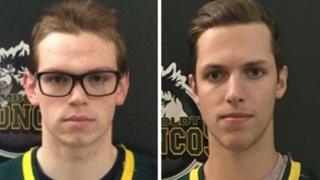 A Canadian coroner misidentified two young victims of a bus crash that killed 15 people in the province of Saskatchewan at the weekend.
The collision claimed the lives of 10 junior ice hockey players and five team support staff.
A day after releasing the official list of the deceased, the Saskatchewan justice ministry admitted mixing up two players' identities.
Xavier Labelle, 18, was said to have died, but he is among the injured.
Friday's fatal collision involved the Humboldt Bronco's team bus and an articulated lorry on a rural highway.
Parker Tobin, 18 - originally listed among the injured - was confirmed on Monday to have died in the crash, and he was removed from the list of survivors.
Saskatchewan Justice Ministry spokesman Drew Wilby said authorities realised the mistake late on Sunday night and both the Tobin and Labelle families have since been informed.
"I can't imagine putting myself in those families' shoes to first get the notice that their loved ones had been in a collision of this nature and to find out who they had thought was their loved one wasn't actually their loved one," he told reporters.
Mr Wilby said he was limited by Canadian privacy laws in offering more information that could explain the misidentification.
"A lot of these boys looked alike - they had the [dyed] blond hair in support of their team for the play-off run, they're very similar builds, they're all very similar ages, and they're very athletic of course," he said.
The scope of the accident - 15 dead and 14 injured - was unprecedented in Saskatchewan's recent history, said Mr Wilby.
He said identification of survivors and deceased was made in conjunction with multiple agencies and in consultation with families.
Authorities say they are now confident in the identities of the remaining survivors and those confirmed killed.
The junior ice hockey players all ranged in age from 16 to 21 years of age.
Ten Humboldt Broncos, along with five team support staff, were killed in the crash as they were travelling to a semifinal play-off in another town.
The tragedy sparked an outpouring of grief from across the country, where ice hockey is considered a national sport.
An online fundraiser for the families of the victims has so far raised over C$5m ($3.9m; £2.7m).