School shooting: Teachers in Pennsylvania get 16in bats after Florida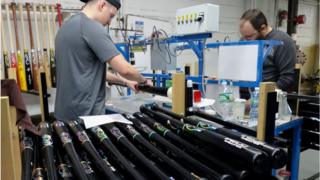 A Pennsylvanian school district has given its teachers baseball bats in the fight against school shooters.
All 500 teachers of Millcreek School District near Erie got a 16in (41cm) bat in the wake of the Parkland, Florida high school attack in February.
Though the bats are largely symbolic, Superintendent William Hall said, they are there as a "last resort".
"Unfortunately, we're in a day and age where one might need to use them to protect ourselves and our kids."
The superintendent said the aim was to have a "consistent tool" for every teacher in every classroom.
In March, another Pennsylvanian school district armed its teachers with buckets of rocks as a response to any potential shooter.
How does it work?
Teachers received the bats after a training day on how to respond to shooters. They will be locked up in classrooms.
Mr Hall said this was part of the district's shooting response plan, known by the acronym Trojan.
This stands for Threat assessment, Run, Obstruct and barricade, Join forces, Attack, and Never give up.
An online survey also asked whether teachers in the district should be armed if the state passed laws allowing it.
"It was about 70% to 30% that people would favour that," Mr Hall said, "but we're not really actively planning that right now."
Millcreek Education Association president Jon Cacchione said this was a tool if teachers had "nothing else".
"Part of the formula now is to fight back, and so I think the bats that were provided for the staff were symbolic of that."
The baseball bats reportedly cost the school district $1,800 (£1,270).