'Mummified monkey' found in Minneapolis department store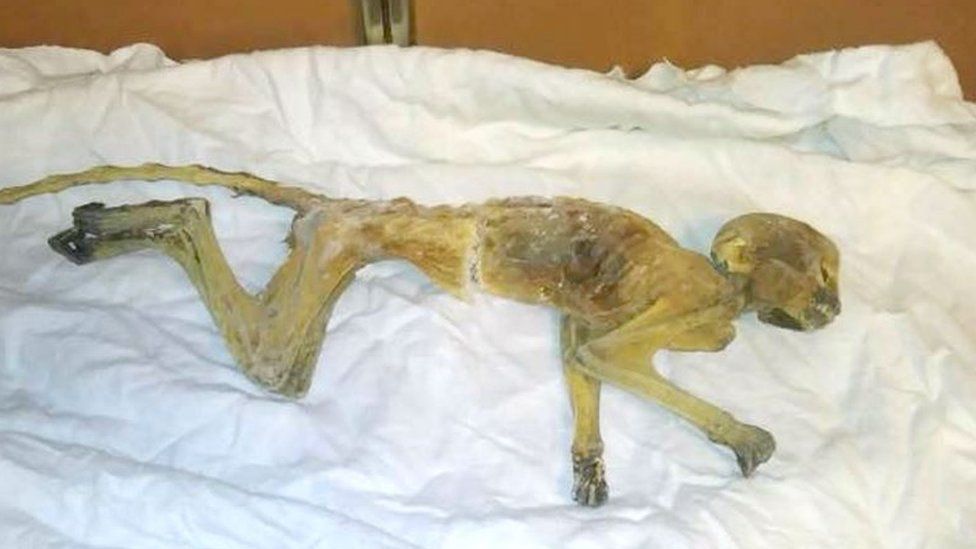 The "mummified" remains of a monkey have been discovered by workers redeveloping a former department store in the US state of Minnesota.
The dead creature was found in the ceiling of the old Dayton Department Store building in Minneapolis.
A spokeswoman for the building project said they were working with local museums to trace the origins of the spider monkey, as theories fly.
A nearby town's mayor suspects his dad stole the critter in the 1960s.
The photo was first shared by a construction worker on the Old Minnesota Facebook page.
The "'perished primate' revealed itself in a ceiling", according to the post.
Some commenters on the site suggested the monkey may have come from a pet store which was on the eighth floor of the 116-year-old building.
Regan Murphy, the mayor of Robbinsdale, Minnesota, believes his late father was to blame for the animal's disappearance.
The suburban Minneapolis mayor says that in the 1960s his dad Larry Murphy and a friend stole the simian from the pet shop.
Both men have since died, but the widow of the elder Murphy says he was known for monkey shines in his youth.
"Monkeys are not house broken," she explained.
"The monkey was discovered by [the friend's] mom, and she said 'Absolutely not. Can't have it, can't keep it."
The two teenagers brought the monkey back to the shop and released it, according to Murphy family lore.
Other curious items have been found in air ducts and in ceilings during the building's renovation, including papier mache Easter eggs and a stolen wallet that was recently returned to its owner.
You might also be interested in: