Missouri governor accused of sexually abusing woman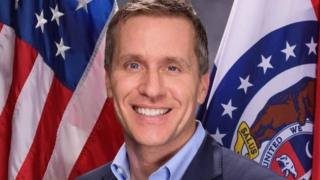 A woman who had an affair with Missouri governor Eric Greitens says he "coerced" her into sex, according to a state committee report.
The bipartisan report, released on Wednesday, details graphic allegations against the governor.
Mr Greitens called the investigation a "political witch hunt" and refused to testify to the committee.
Missouri attorney general Josh Hawley, a fellow Republican, has joined calls for him to resign.
Mr Greitens is separately charged with invasion of privacy and is scheduled to stand trial in May.
The governor allegedly tried to blackmail the woman with nude photos of her to prevent word of the affair spreading. He denies the allegation.
What does the report say?
The report was published in full by the Associated Press, with a warning of graphic content on the front page.
It was compiled by the state legislature after a cross-party investigation.
In the report, the unnamed woman testifies she had multiple sexual encounters with Mr Greitens in 2015, before his election. Some, she says, were not consensual.
She repeats her earlier allegation that, during their first encounter, the governor took a photo of her bound and blindfolded in his basement without her permission and threatened to release it if she ever mentioned his name.
The woman then says she felt "coerced" into giving the governor oral sex. As she lay on the floor "uncontrollably crying", the governor allegedly pulled out his penis and put it near her face.
"I felt as though that would allow me to leave," she testified.
The woman says that after this incident, the governor apologised for his behaviour and deleted the photo. She then entered into a consensual affair with him.
Mr Greitens has admitted the relationship but says it was consensual.
The governor said shortly before the report's release that he had made "a personal mistake" three years before and that it was being turned into "a political spectacle".
How did other politicians react?
There was outrage across the political spectrum on the release of the report.
Attorney General Hawley called on Mr Greitens to resign, saying the report contained "shocking, substantial and corroborated evidence of wrongdoing" by the governor that could be grounds for impeachment.
The speaker of the state legislature, Todd Richardson, another Republican, denied the report was politically motivated. "The testimony outlined in the report is beyond disturbing," he said.
Democratic state representative Stacey Newman and US Senator for Missouri Claire McCaskill, also a Democrat, spoke out on Twitter.