Can this woman become the first cop in Quebec to wear a hijab?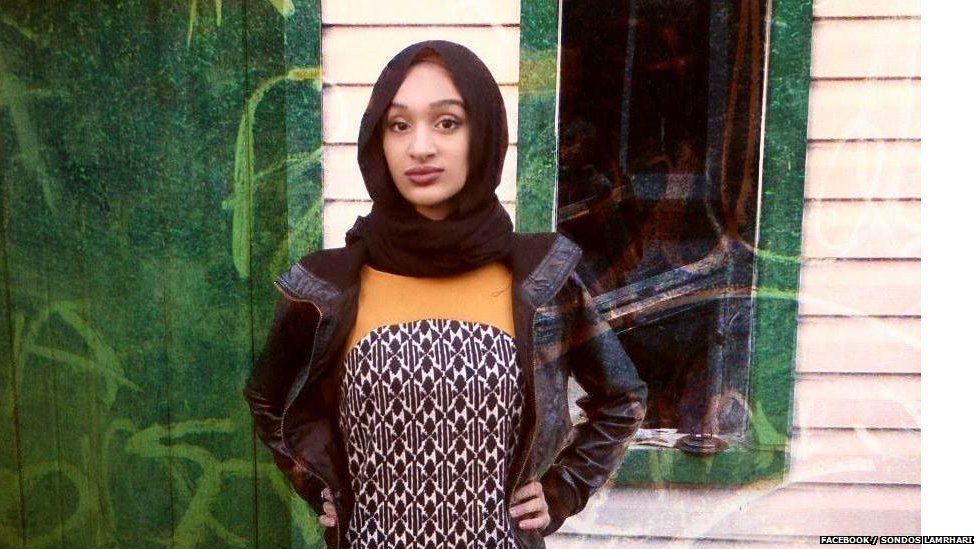 A 17-year-old woman is at the centre of a heated debate in Canada over whether police officers should be allowed to wear hijabs or turbans.
Sondos Lamrhari is the first student in Quebec to wear a hijab while studying to become a police officer.
A Quebec politician said she should not be allowed on the police force, which has ignited a firestorm on both sides of the issue.
Meanwhile, a law banning face coverings in public services is going to court.
Ms Lamrhari says she will not let the controversy deter her from her dream career of working for the Montreal or Laval police forces.
"I feel like all the other kids. I don't think I have a better or worse chance of getting into this career path," she told Radio-Canada.
"Any insults just motivate me."
Religious symbols - especially head coverings worn by Muslims - have frequently become a topic of bitter debate in Quebec, where state secularism is highly prized.
The issue of whether public servants should be allowed to wear religious symbols or clothing has arisen in all recent elections.
Last September the province passed a religious neutrality law that bars people from wearing face coverings when giving or receiving a public service.
It did not specifically mention the Muslim faith, but critics said it targeted Muslim women who wear veils that cover the face.
The bill had been proposed by the ruling Liberal government two years ago.
Since passage, it has been put on hold while it faces a human rights challenge in court.
The law only applies to veils that cover the face, and would not affect women who wear the hijab, which only covers the hair and neck.
But Ms Lamrhari, who could become the first police officer in the province to wear a hijab, has raised a new issue.
The provincial police academy, which oversees her education, said it would issue a ruling on whether trainees can wear religious head coverings in the next few months.
The Montreal police do not have a rule either way.
Officers in Canada's federal police force, the RCMP, have been wearing religious head coverings since the 1990s.
Police in the Canadian cities of Toronto, Edmonton and Vancouver are also allowed to wear head coverings.
Both politicians from the progressive Parti Quebecois and the centre-right Coalition Avenir Québec have said she should not be allowed to wear a hijab and serve on the police force.
"[Our) government would forbid any religious symbols for any employee of the state who's in a position of authority," Coalition Avenir Québec politician Geneviève Guilbault said.
These remarks have caused uproar.
The mayor of Montreal has thrown her support behind Ms Lamrhari as has the provincial Liberal Justice Minister Stéphanie Vallée.
"This young woman was born in Quebec," Ms Vallée said.
"She wants to join the police force where we don't have a lot of women, let alone a lot of diversity.
"And the opposition are telling her, 'You know what, you can study, but if we govern, we won't allow you.'"