Sarah Sellers: The nurse who was runner-up in Boston marathon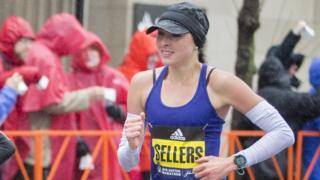 A two-time Olympian, Desiree Linden, became the first American woman to win the Boston Marathon since 1985 on Monday - but it's the runner-up who is making headlines.
Sarah Sellers ran the 26.2 mile (42km) course in a time of two hours 44 minutes four seconds, finishing just minutes behind Linden.
Monday's race was only the second marathon that the 26-year-old nurse has run. The first, in Utah, she won to qualify for the prestigious Boston event.
She was a keen track and field competitor in college, but is an unknown to the professional running world. Previous injuries meant she stopped competing.
The nurse only signed up for Monday's event because her younger brother was participating. After paying the $185 (£130) entrance fee, she now leaves the east coast with $75,000 (£52,000) in prize money.
Sellers ran the race without sponsors or an agent, and she has a day job. As the marathon got closer, she has typically been waking up at 04:00 to squeeze in training before long anaesthesiology shifts starting at 06:30 at Banner Health Centre in Arizona.
"Looking at the field of athletes assembled yesterday, I would have been ecstatic to finish in the top 15," she told the BBC.
"People knew I ran - but it took me by complete surprise so it's taken them by surprise too," she said.
"The husband and my parents are here - it was really cool for them to be a part of it."
The 122nd edition of the world's oldest marathon threw up several shock results, with rain-soaked and windy conditions contributing to upsets.
Ethiopian runner Mamitu Daska, who led for much of the women's' race, had to withdraw before the end.
"It felt like running in a washing machine - wind and rain the full race," Sellers said.
"Before the race I was nervous for the hills. But when they came I'd been fighting the wind for so long they didn't feel like an issue.
She said that other racing athletes had been very supportive of her success.
"Looking at their running resumes they totally dwarf anything I've done in the past so it's been cool for everyone to be so excited and congratulatory."
The winner of the men's race, Yuki Kawauchi from Japan, also beat favourites to provide an upset.
He is also not a full-time athlete and works 40 hours a week as a government clerk, running once a day.
While training for Monday's race he ran a half-marathon at home dressed as a panda.
Just under 30,000 people competed in Monday's run - the city's fifth since a terror attack at the finish line in 2013 killed three people.
Sellers told US media that she planned to use her prize money to "make a dent" in her and her husband's student debts from graduate school.
She plans to return to Arizona for work on Tuesday, and laughed off media questions about turning professional.
"I'm definitely going to compete again. Before the race, I'd not thought was going to happen beyond it.
"I'm going to continue racing, I love it."
More inspiring stories: