Picture perfect: The instant photo proposal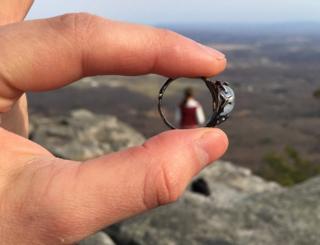 Beautiful scenery, fresh air, good company - what more would you expect on a seven-hour hike with your partner?
Unbeknown to Meg, her partner Lyd planned to propose on the day they swapped New York city life for a leisurely day out in Minnewaska State Park.
The couple posted a selection of photos with the panoramic view on Twitter, which were soon liked more than 160,000 times.
The pair met online in 2013 when Meg discovered the comics that Lyd drew and started sending her jokes.
"It was the first time I ever reached out to someone I didn't know online. It was uncharacteristic of me, but something drew me towards her. We became fast friends, and eventually began playing games and watching shows together online," Meg told the BBC.
Lyd added: "We started a long distance relationship after that, and the distance lasted for about the first three years of our relationship."
But early on, the couple felt they were soulmates and destined to become engaged.
They'd picked out a ring beforehand.
"The band is a silver branch since nature and the environment are important to us, and the gem is a rainbow moonstone, which changes colours in the light to match Meg's eyes" according to Lyd.
As the couple had been posting images of their adventures together on their bedroom wall, it was inevitable that they packed their instant camera on their hike.
They had planned to get engaged but the actual proposal was kept secret by Lyd who said it felt "like a story I had to complete. Story art is my profession, so this idea came naturally to me."
You might also like:
Lyd said she was grateful that Meg didn't focus on her tears as she spoke, describing her fiancee as the "most perfect person in the world".
As Meg explains in one of her tweets, partner Lyd is "non binary and leans towards they/them pronouns so that's how I refer to them (lyd) online."
Both say their families have been pretty supportive, and some of their friends were surprised. They're hoping to get married on their anniversary in February 2019.
As keen gamers, Lyd and Meg have created a Youtube channel which features recordings of some of their games. They call themselves the "Legbirds" which Lyd explains, is a combination of their first names: "Lyd + Meg = Leg" and a play on "lovebirds".
Presumably, there will be plenty of photos taken on the lovebirds' wedding day.
Compiled by Sherie Ryder, BBC UGC and Social news