New York: James Marion Sims statue removed from Central Park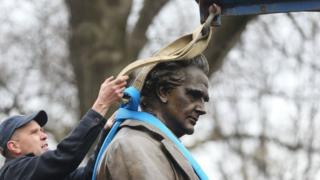 New York has removed a statue of a controversial 19th Century doctor from the city's Central Park.
James Marion Sims, described as the "father of gynaecology", performed medical experiments on enslaved black women using no anaesthetic.
Earlier this week, the city's Public Design Commission unanimously approved a decision to remove the statue following a review into "hate symbols".
It has been moved 10 miles (16km) to the site of Sims's grave in Brooklyn.
Born in 1813 in South Carolina, Sims became famous for his work to repair fistula, a widespread condition at the time which caused incontinence after childbirth.
However, controversy has grown in recent years over his experimental surgeries on black slaves. The procedures were conducted without anaesthetics, and sometimes repeatedly.
The bronze statue of Sims was unveiled in the 1890s and had stood near the north-east corner of Central Park, opposite the New York Academy of Medicine, since 1934.
Its removal from the park followed a 90-day review ordered by New York Mayor Bill de Blasio last year into "all symbols of hate on city property", after a woman was killed at a far-right rally in Charlottesville, Virginia, in August 2017.
New York City Council has said it plans to add informational plaques to the statue's pedestal in Central Park and at its new location at Sims's grave to explain the monument's history, and to commission new artwork to reflect the issues raised by Sims's legacy.