Barbara Bush: Tributes after former US first lady dies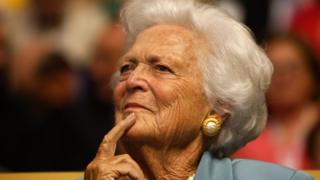 Following the death of the former US first lady and literacy campaigner, Barbara Bush, tributes have come in from across US politics and society.
Mrs Bush was the matriarch of a political dynasty that included two presidents - her husband George HW Bush and her son George W Bush.
She had been in failing health and had declined further medical treatment.
Former President Bill Clinton called her a "remarkable woman" with "grit and grace, brains and beauty".
Barack and Michelle Obama said she lived her life "as a testament to the fact that public service is an important and noble calling".
The current Second Lady, Karen Pence, the partner of the vice president, described Mrs Bush as a "trusted friend" who had had a "profound" impact on her life.
The current Education Secretary, Betsy De Vos, praised Mrs Bush for her efforts in improving literacy for all in the United States and around the world.
JJ Watt, an American football player who came to know Barbara Bush as a result of her support for his team, the Houston Texans, said that she was a "beautiful light in this world".
Mrs Bush's work also drew praise from her husband's former political opponents in the Democratic Party.
The long-standing Democratic Senator for California, Diane Feinstein, praised Mrs Bush for her for making "children's literacy a lifelong cause".
Elijah Cummings, a representative from Maryland, said "[Mrs Bush's] goal to create opportunity through literacy touched lives all across the country".
The American news network NBC shared a famous video of Barbara Bush speaking at a commencement address at Wellesley College in 1990, saying that the president's spouse may one day be a man.
But not everybody on social media praised Barbara Bush's legacy.
Some commenting on the former First Lady's death recalled her controversial comments in the wake of the Hurricane Katrina disaster in 2005.
Whilst on a tour of a relocation site for those affected by the hurricane in Houston, Mrs Bush said that the victims were "underprivileged anyway, so this is working very well for them."
The comic writer, Jennifer de Guzman, said that Mrs Bush's comments after Hurricane Katrina in 2005 were "disgusting and racist".