Wrestling legend Bruno Sammartino dies at age 82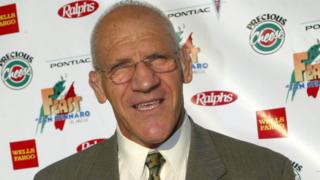 Bruno Sammartino, who fled his Nazi-occupied hometown before emigrating to the US where he became an icon of professional wrestling, has died.
Sammartino, who was known as "The Living Legend" in his time, fled Italy as a child after World War II, later settling in Pittsburgh, Pennsylvania.
The WWE Hall of Fame confirmed his death at age 82, praising his life story as the "American dream".
Celebrity wrestlers have been paying tribute to him on social media.
His death was announced on the website of WWE, the organisation known as World Wrestling Entertainment.
As a child, his hometown of Pizzoferrato was occupied by German forces, causing him and his family to flee into the mountains around Abruzzo before coming to the US.
"When I came to this country, I was a human skeleton," he once told KDKA-TV in Pittsburgh.
Before becoming a strongman, he was bullied in school due to his lack of English proficiency and slight frame.
He began his athletic career by lifting weights, and caught the attention of WWE Chairman Vincent McMahon after breaking a world record in 1959.
Sammartino, who was also dubbed "The Italian Superman", bench-pressed 565lbs (256kg).
He performed at Madison Square Garden in 1968, only eight days after the famous New York City venue opened to the public.
He later when on to sell out the stadium an astonishing 187 times, according to the WWE.
In 2013, he was inducted into the WWE Hall of Fame by Arnold Schwarzenegger.
Sammartino was a two-time champion of the WWWF, which preceded the WWE, reigning for a combined 11 years.
His career mostly existed during a time before the WWE admitted that its bouts were not actual competitions, but rather staged performances.
Hulk Hogan wrote on Twitter: "RIP Bruno, thank you for loving and living our business".
Pittsburgh Mayor Bill Peduto praised him in a statement as "one of the greatest ambassadors the city of Pittsburgh ever had".
Singer Bruno Mars, who met Sammartino last year, says that he chose that performing name because of a nickname his father gave him as a child, which was based on the WWE legend.
"I was nicknamed after this professional wrestler Bruno Sammartino," the singer wrote on Instagram after the meeting.
In June 2010, Mars told the website RapUP that he was given that nickname by his dad, because he was "a chunky little baby".