Trump opens exit for embattled US veterans nominee Ronny Jackson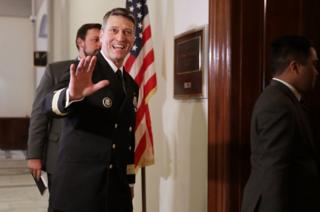 US President Donald Trump has offered lukewarm support to his pick to lead the Veterans Affairs department, Ronny Jackson, amid claims of impropriety.
Mr Trump said at a news conference that he will "stand behind" the embattled White House doctor, but added: "If I was him, I wouldn't do it".
Dr Jackson is facing allegations he oversaw a toxic work environment in the White House Medical Unit.
On Tuesday a Senate committee abruptly cancelled his confirmation hearing.
CBS News and other US media outlets have reported that the doctor has been accused of "excessive drinking on the job", "improperly dispensing" medications and fostering a "hostile work environment" during his tenure at the White House.
During a joint news conference with French President Emmanuel Macron, Mr Trump praised Dr Jackson as "one of the finest people I have ever met", but also acknowledged his "lack of experience".
The president said Dr Jackson had been treated unfairly by Democrats and the media, adding that the nomination process might be "too ugly" for his personal doctor.
"I don't want to put a man... who's not a political person... through a process like this. It's too ugly and too disgusting. So, we'll see what happens," Mr Trump said.
"If I were him, I wouldn't do it," he added.
Earlier on Tuesday White House deputy press secretary Hogan Gidley praised Dr Jackson's "record of strong, decisive leadership".
---
Trump's style: Hire from the hip
Analysis by Anthony Zurcher, BBC News, Washington
Veterans Affairs pick Ronny Jackson needed a lifeline, but the president threw him an anchor.
The White House physician didn't have a resume that indicated he'd be qualified for the job, and as it's becoming clear there was little in the way of background vetting performed on the nominee.
When it comes to personal moves, however, the Jackson choice fits with Mr Trump's management style. He's reportedly pushing his personal pilot as head the Federal Aviation Administration and appointed his caddy-turned-golf-club-manager-turned-campaign-aide as White House social media director.
If the president likes someone - and those first impressions can come in person or, in the case of some of his recent White House appointments, on television - he moves quickly and doesn't hesitate to put that individual in a position of responsibility.
Perhaps it is because he values what he views as character over experience and likes challenging people he thinks are up to the task. It also means that Mr Trump's picks owe more to Trump the man than if they had worked their way up through traditional channels, making contacts and establishing a professional reputation along the way.
While this method may have worked for Mr Trump as head of a closely held private business, the risks at a national political level - where the spotlight comes quickly and shines brightly - have become quite obvious. The Trump administration has had more than its share of nomination misfires, and Mr Jackson is just the latest, most glaring example.
Read more about Mr Trump's management style
---
Senator Johnny Isakson, the Republican chairman of the Senate Veterans Affairs Committee, and Democratic Senator Jon Tester cited "serious allegations" as the reason for indefinitely postponing the hearing which had been scheduled for Wednesday.
Both senators wrote to Mr Trump to request more information about the 50-year-old Iraq War veteran and former combat surgeon, after the allegations were first made in US media.
The committee began investigating Dr Jackson late last week, according to Democratic Senator Richard Blumenthal.
Mr Blumenthal, a member of the panel, stressed that the allegations were unsubstantiated.
"I think the White House has to give us full, and accurate, factual responses completely addressing these questions, today. I mean, right away," Mr Blumenthal said. "Allowing these questions to fester are a disservice to the VA and to Admiral Jackson."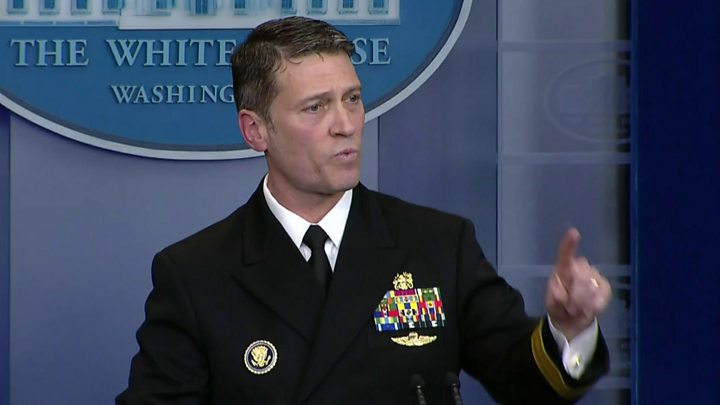 Dr Jackson has served as the White House physician since 2006, and rose in profile after declaring Mr Trump to be in "excellent" health following a medical examination.
He famously told reporters that Mr Trump could live to the age of 200 if his diet improved.
Dr Jackson was selected by Mr Trump last month to lead the 360,000-employee agency, which commands an annual budget of $186b (£133b), after the president fired former Obama-era official David Shulkin as Veterans Affairs secretary.