Ronny Jackson defended by White House as vetting questions raised
The White House is rallying around its nominee to lead the department of Veterans Affairs, who is facing scrutiny over a series of allegations.
A top White House aide said that Donald Trump "will be defending him", as a top senator on the Veterans Affairs committee revealed new claims.
Senator Jon Tester said Dr Jackson was nicknamed "the candy man" because he handed out medications "like candy".
Hours earlier Mr Trump said that he should reconsider if he wants the job.
"If I were him, I wouldn't do it," Mr Trump said on Tuesday during a news conference with French President Emmanuel Macron.
But the tune changed a little later after the president had a meeting with Mr Jackson.
After the two men spoke, the White House director of legislative affairs Marc Short defended Mr Jackson and the vetting process that led to his selection.
No red flags were raised during an FBI background check, he said, adding that the allegations "are false, and we think that Admiral Jackson will do a great job".
Senator Tester, whose Veterans Affairs committee has indefinitely postponed Dr Jackson's confirmation hearing, said that around 20 people have raised concerns regarding his job performance.
He said several have accused him of doling out prescription medications on international flights aboard Air Force One.
"These are called controlled substances for a reason," the Montana Democrat said, adding that his committee needs more time to investigate the numerous allegations.
Mr Jackson has not directly responded to the allegations.
Trump's style: Hire from the hip
Analysis by Anthony Zurcher, BBC News, Washington
Veterans Affairs pick Ronny Jackson needed a lifeline, but the president threw him an anchor.
The White House physician didn't have a resume that indicated he'd be qualified for the job, and as it's becoming clear there was little in the way of background vetting performed on the nominee.
When it comes to personal moves, however, the Jackson choice fits with Mr Trump's management style. He's reportedly pushing his personal pilot as head the Federal Aviation Administration and appointed his caddy-turned-golf-club-manager-turned-campaign-aide as White House social media director.
If the president likes someone - and those first impressions can come in person or, in the case of some of his recent White House appointments, on television - he moves quickly and doesn't hesitate to put that individual in a position of responsibility.
Perhaps it is because he values what he views as character over experience and likes challenging people he thinks are up to the task. It also means that Mr Trump's picks owe more to Trump the man than if they had worked their way up through traditional channels, making contacts and establishing a professional reputation along the way.
While this method may have worked for Mr Trump as head of a closely held private business, the risks at a national political level - where the spotlight comes quickly and shines brightly - have become quite obvious. The Trump administration has had more than its share of nomination misfires, and Mr Jackson is just the latest, most glaring example.
Read more about Mr Trump's management style
Mr Trump praised the White House physician on Tuesday as "one of the finest people I have ever met", but also acknowledged his nominee's "lack of experience".
"I don't want to put a man... who's not a political person... through a process like this. It's too ugly and too disgusting. So, we'll see what happens," Mr Trump said, seeming to signal an exit door for the embattled nominee.
But after a meeting between Dr Jackson and Mr Trump, the White House doubled down on its support by releasing handwritten notes praising the doctor's job performance.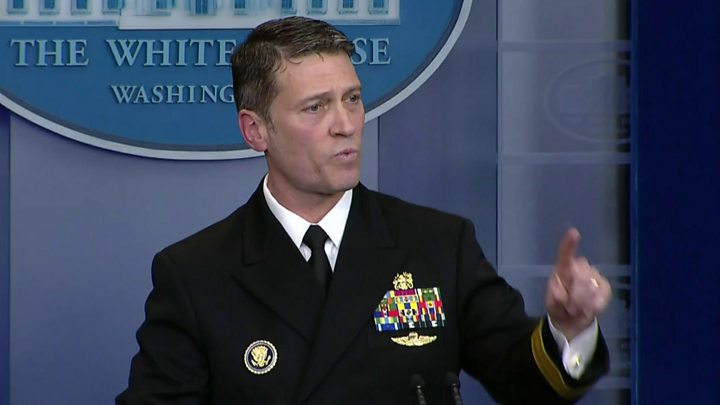 "Ronny's positive impact cannot be overstated," wrote former president Barack Obama about 50-year-old Iraq War veteran who has worked at the White House since 2006.
"He is a tremendous asset to the entire White House team," he wrote, adding that he should be promoted "now".