California professor's Barbara Bush tweets 'free speech'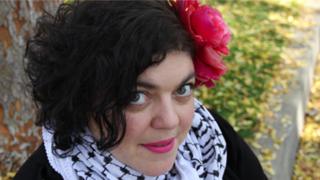 A California professor who called Barbara Bush an "amazing racist" will not be disciplined, says the college.
Following Mrs Bush's death last week, Randa Jarrar also tweeted that the former US first lady "along with her husband, raised a war criminal".
The California State University, Fresno academic's posts provoked calls for her to be fired.
But Fresno State University President Joseph I Castro said no disciplinary action will be taken.
"Her comments, although disgraceful, are protected free speech under the First Amendment of the US Constitution," said Mr Castro in a statement on Tuesday.
Professor Jarrar's Twitter account has since been switched to private.
More on this story