Double amputee crawls up Colorado's 2,700-step Manitou Incline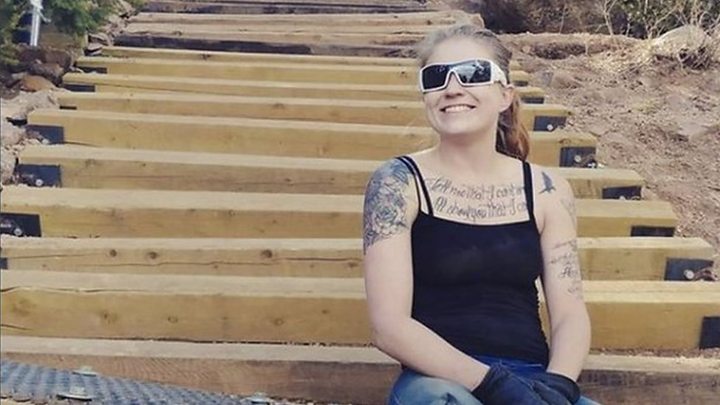 A double amputee says she is "so blessed and touched by the outpouring of support" after she climbed a steep local hiking trail using only her arms.
Mandy Horvath climbed the more than 2,700 steps of the Manitou Incline in Colorado - dubbed the "holy grail of cardio" - in four hours.
She lost both legs in a train accident in 2014.
She said she did not train for the feat and wanted to show that "absolutely anything is possible".
In an Instagram post documenting it, she said she believed she was "the first female double amputee to reach the top" of the trail, which gains more than 2,000 feet (610m) of elevation in less than a mile (1.4km), with gradients at times reaching 68%.
She said her endeavour was in part inspired by Limb Loss Awareness Month.
"The next time someone tells me that they can't, I'm showing them your video," said one commenter on Facebook.
More of our best-read stories...
Ms Horvath, who is 24, was disabled when she was struck head-on by a fast-moving train having been incapacitated by what is suspected to have been a date-rape drug. She would have died but for the fast actions of the driver.
"I keep going - plain and simple, I live my life like anyone else and I just do things a little differently," she told Colorado TV station KDVR.
She said her dream was to open an accessible restaurant and employ amputees in the kitchen.
"I didn't train for the Incline yesterday, I just decided I was going to do it," she said.
"We all go through phases of depression, anxiety, sadness, life struggle. Go outside. Climb something. Run.
"And if you can't - crawl."