Golden State Killer suspect traced using genealogy websites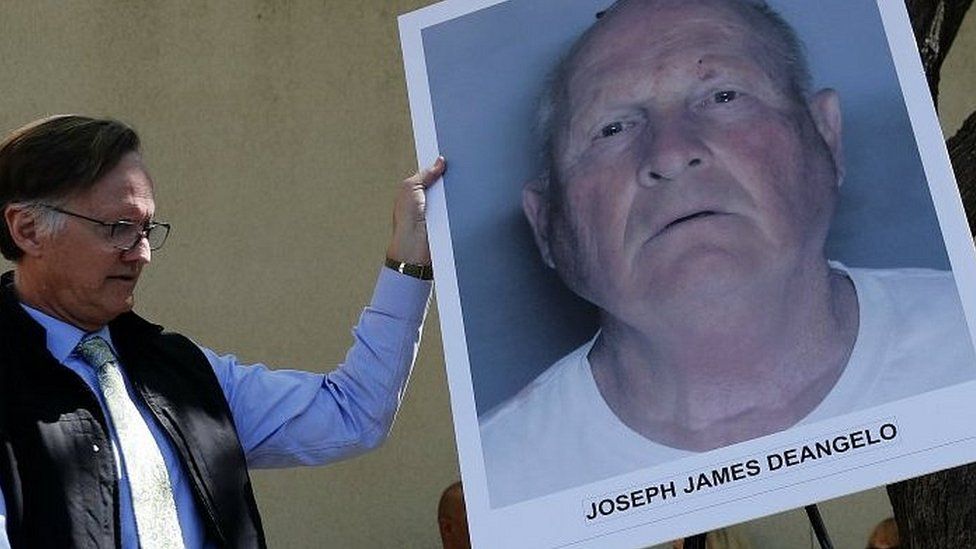 Californian prosecutors say genealogy websites played a key role in tracking down a man accused of being a notorious serial killer.
Joseph DeAngelo, 72, is suspected of being the so-called Golden State Killer, blamed for a spate of murders and rapes in the 1970s and 1980s.
DNA linked the crimes but police had struggled to identify the attacker.
Investigators revealed the search was narrowed with genetic information from websites used to trace family ancestry.
Mr DeAngelo, who was arrested on Tuesday, has been charged with eight counts of murder. He is due to make his first court appearance in Sacramento later on Friday.
Steve Grippi, a prosecuting attorney for Sacramento County, said investigators had compared the DNA they had to information uploaded to genealogical websites by people searching for parents or other relatives.
The DNA Doe Project, which helps trace unidentified murder victims and return them to their families, told the BBC that DNA sent to such a site by a relative of the murderer may have provided a crucial clue to police.
It is not clear if the websites involved were ordered to provide the information or did so voluntarily.
Authorities were then able to focus on a few individuals. They further narrowed the search by using profiling technique, including the probable age of the killer.
Mr DeAngelo lived in a suburb of Sacramento that is not far from the scene of the first murders.
Police said Mr DeAngelo, a former police officer, was placed under surveillance and then arrested when "discarded DNA" matched him to the crimes.
The Golden State Killer - also known as the East Area Rapist, Original Night Stalker and the Diamond Knot Killer - is believed to have carried out 12 murders, 51 rapes and more than 120 burglaries between 1976 and 1986.
The crime spree terrorised communities in Sacramento, San Francisco and in central and southern California.