Ohio boy crushed to death by 28-stone grandad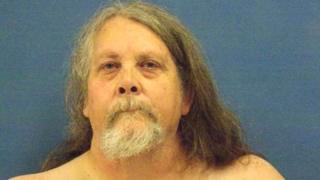 A 400lb (181kg) man in the US state of Ohio has admitted accidentally killing his 11-year-old step-grandson by smothering him last year.
Donald Martin, 58, said he was trying to control the boy during a tantrum by pinning him against the arm of a couch.
The victim, Dylan Davis, had started a fight with his grandmother when Martin intervened.
He pleaded guilty to a reckless homicide charge. Police acknowledged the death was a "tragic accident".
You may also be interested in:
It happened Last November, when Dylan, who had mild autism, became upset.
Martin stepped between his wife and his step-grandson and tried to hold the boy down.
The wife told ambulance dispatchers: "My husband was holding him down, he got sick and then he just passed out. I don't know."
Dylan was pronounced dead at the hospital.
The coroner has ruled the boy died of positional asphyxiation.
Zach Corbin, prosecutor, said Dylan "wasn't restrained for seconds, this was over a matter of minutes".
The victim's father, Sam Davis, told local media last year Dylan was experiencing more anger issues as he got older, and Martin was trying to help.
Martin is due to be sentenced on 8 May.