Trump: Leak of Mueller's Russia questions 'disgraceful'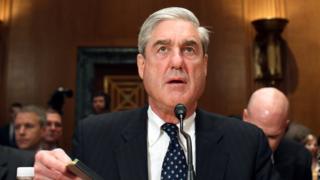 It is "disgraceful" that a list of Russia inquiry questions prepared for the president has been leaked to US media, US President Donald Trump says.
Special Counsel Robert Mueller, who is looking into possible Russian meddling in the 2016 election, reportedly gave the list to Mr Trump's legal team.
The New York Times says it has obtained the list of more than 40 questions.
Mr Trump appeared to confirm the report on Twitter, repeating his claim that the Russia inquiry is a "witch hunt".
He later tweeted on Tuesday morning: "It would seem very hard to obstruct justice for a crime that never happened."
White House spokesman Raj Shah said on Tuesday that the Times report was "troubling".
"The entire premise of this investigation was on this topic of collusion and the overwhelming focus of the questions is not on that topic," he said.
What is Robert Mueller investigating?
The special counsel is looking into Russia's efforts to interfere in the 2016 US election, whether there was any collusion between the Kremlin and Mr Trump's election campaign and whether the president unlawfully tried to obstruct the inquiry.
Mr Mueller was appointed special counsel following Mr Trump's firing of FBI director James Comey last May.
The president insists there was no collusion between his election campaign and the Russians.
US media reported that sources familiar with the case said Mr Mueller informed Mr Trump's attorneys in March that he is a subject of the investigations, but not a criminal target.
It remains unclear when Mr Mueller will request a meeting with the president.
Were there any surprising questions?
The list of questions appeared to confirm that John Dowd, the president's former lead lawyer for the Russia investigation resigned in March after he concluded that the president was increasingly ignoring his advice regarding Mr Mueller.
Mr Dowd had received information about Mr Mueller's questions from the special counsel's team, and his resignation came about a week and a half later.
Rudolph W. Giuliani, Mr Trump's new lawyer for the investigation, met with Mr Mueller last week, according to the newspaper.
Mr Mueller's current list reportedly ranges from questioning the president's motivations in firing former FBI director James Comey last May to his treatment of Attorney General Jeff Sessions after his recusal from the Russia investigation.
One of the questions directly refers to Paul Manafort, the former Trump campaign chairman, asking what knowledge Mr Trump may have had about Mr Manafort's outreach to Russia.
Mr Mueller also plans on asking Mr Trump about his election campaign's possible co-ordination with Russia, according to the Times, which said it obtained the list from someone outside of the president's attorneys.
---
Plenty of questions. Will there be any answers?
Anthony Zurcher, BBC News, Washington
The Mueller questions are like a walking tour of all the Russia-related controversies surrounding Donald Trump's campaign and the early days of his presidency.
The June 2016 Trump Tower meeting between top campaign aides and a woman with ties to the Russia government. The Ukraine-related changes to the Republican Party platform. Michael Flynn's contacts with Russian Ambassador Sergei Kislyak. All of the issues related to possible obstruction of justice.
As for questions about collusion, there were plenty - including about Trump's 2013 beauty pageant visit to Moscow, his involvement with any Russian real estate deals during the presidential race, his son-in-law's back-channel outreach to the Russian government, his former adviser's contacts with Wikileaks and his knowledge of any outreach by campaign aides "to Russia about potential assistance to the campaign".
Paul Manafort - the former Trump campaign chair - is mentioned by name.
Mr Manafort, of course, has been indicted by Mr Mueller in part for work he did for pro-Russian officials in Ukraine. He attended that Trump Tower meeting, which was set up by Donald Trump Jr after the candidate's son was told Russia had information "that would incriminate" Hillary Clinton that was part of the Russian' government's support for Mr Trump. Mr Manafort also reportedly offered to give a government-connected Russian billionaire a briefing about the campaign in July 2016.
In other words, roughly a third of Mr Mueller's questions cut right to the heart of the investigation into possible ties between Mr Trump's team and Russia. The special counsel has plenty of questions - but the biggest one right now is: Will Donald Trump answer any of them?