Iowa approves 'most restrictive abortion bill in US'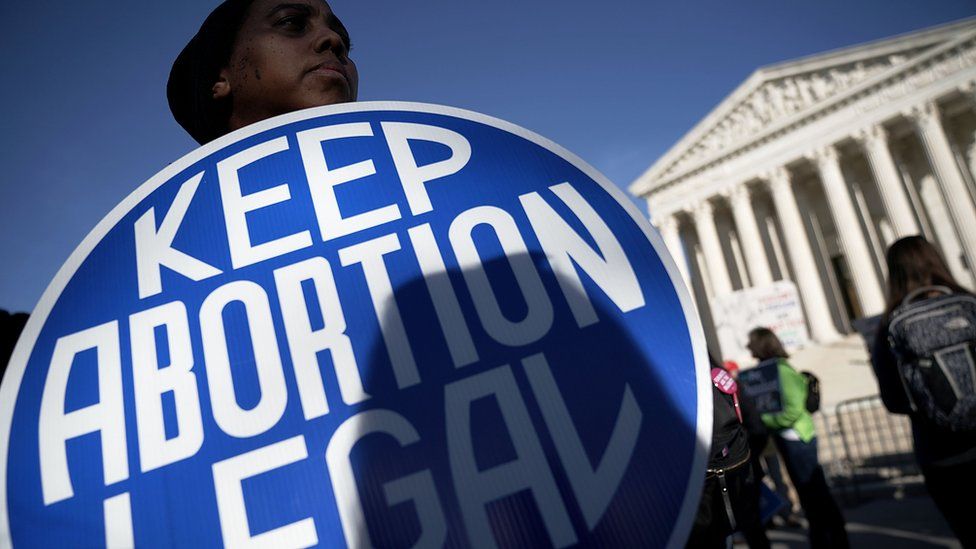 The US state of Iowa has approved an abortion law banning most abortions once a foetal heartbeat is detected.
Republican lawmakers passed the bill in back-to-back votes, sending it to the governor's desk to sign into law.
If it comes into effect the bill will ban most abortions after six weeks of pregnancy, and rights groups say it will be the country's most restrictive.
Critics argue it will make having an abortion illegal before most women even realise they are pregnant.
Iowa's Republican Governor Kim Reynolds has not said if she will sign the bill.
Last year, Iowa Republicans successfully banned abortions after 20 weeks of pregnancy.
What new restrictions have been approved?
The so-called "heartbeat" bill would require any woman seeking an abortion to have an ultrasound to screen for a foetal heartbeat. If one is detected, she will be barred from obtaining a termination.
Some exceptions have been introduced - in cases of rape and incest, where it has been reported to authorities, and to save the woman's life.
"We're in the majority for a reason and that includes advancing the pro-life cause," Republican Representative Shannon Lundgren told the Waterloo-Cedar Falls Courier.
"We are alive when our hearts start beating and our life is over when it stops," Dawn Pettengil, another Republican Representative from Iowa, told CBS News.
Democratic Representative Beth Wessel-Kroeschell spoke against the legislation on the floor of the Iowa House of Representatives on Tuesday.
"All women, regardless of age, income or race, should be able to obtain reproductive health services, including abortion, free from political and economic barriers," Ms Wessel-Kroeschell said.
Iowa's Planned Parenthood and the American Civil Liberties Union groups have also spoken out against the bill.
"So-called 'heartbeat protection' bills are actually bans on safe, legal abortion, and they threaten to set reproductive rights back by decades."
Elizabeth Nash, of the sexual and reproductive health policy group the Guttmacher Institute, told the BBC this was "the most restrictive abortion ban in the country".
The US abortion debate: Both sides speak
She and Iowa Democrats have suggested the bill is intentionally unconstitutional.
If Ms Reynolds signs the bill into law, it will likely be challenged in court for possibly violating Roe v Wade, the US Supreme Court ruling that legalised abortion in 1973.
The ruling states some women have a right to terminate pregnancies until a foetus is viable.
Isn't that a problem for the bill's supporters?
No, in fact some Republican lawmakers welcomed the challenge.
"I would love for the United States Supreme Court to look at this bill and have this as a vehicle to overturn Roe v. Wade," Republican Senator Jake Chapman said.
A string of US states have enacted abortion bans or stringent restrictions over recent decades only to have them overturned by the courts, prompting some conservatives to take aim at the landmark ruling.
"We created an opportunity to take a run at Roe v Wade," Republican state Senator Rick Bertrand acknowledged.
Iowa is among a number of states, including Mississippi and Kentucky, that have triggered court challenges by imposing tight restrictions on abortion.
President Donald Trump supports an abortion ban and has indicated that this is a priority, and Republicans are seizing the opportunity that creates, say commentators.