A dog that transformed a 104-year-old's life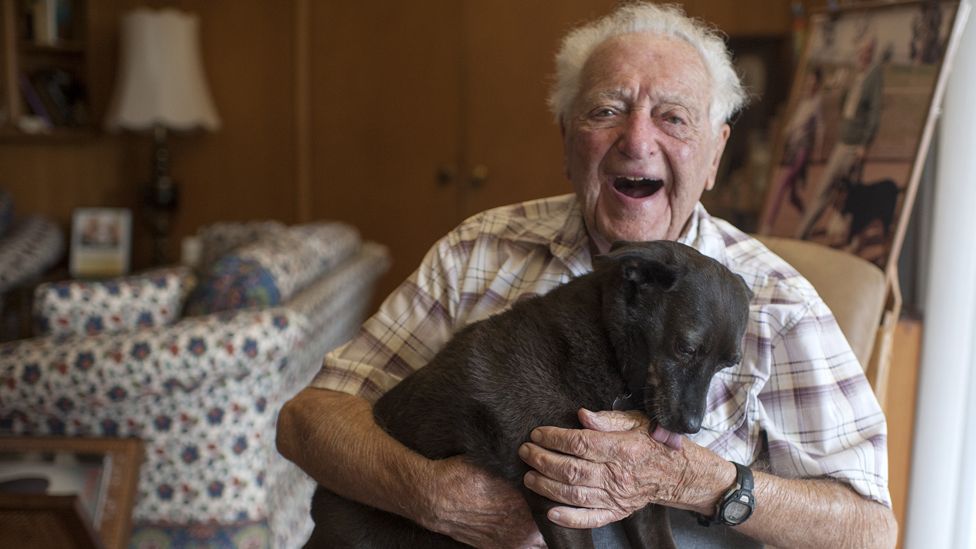 Milt Lessner has "always had dogs" throughout his life - and he's 104 years old, he tells writer Jen Reeder. So are dogs the secret to longevity?
"I'd like to think so," he says.
"I enjoy the familiarity with them, and the pleasantness, and the bonding - especially the bonding."
That bonding has been particularly important since the passing of his wife and their dogs several years ago.
After a few rescue organisations declined to adopt to a man over 100, he reached out to a dog rescue that specialises in older dogs - Lionel's Legacy in San Diego, California. The charity arranged for him to foster a dog named Layla for as long as he's able.
The affectionate, even-tempered mutt immediately adapted to her new life when Milt brought her home in November 2016.
"In no time at all, we were quite friendly with each other," he says. "She's very conciliatory and very agreeable.
"We're trying to stay in good health, both of us. So far, we've succeeded and we're still alive."
Milt is a retired psychiatrist and used to bring dogs with him to work to help relax his patients. He says Layla is a terrific companion - an older dog who is already house-trained, friendly and mellow.
"I can't think of anything better," he says.
Older dogs often wind up in animal shelters when their owner moves into apartments that don't allow pets, or when their owners face financial issues or personal challenges such as divorce or illness.
Layla was found as a stray, but seemed to have been well-cared for with a notable exception - a dangerous infection of the uterus called pyometra.
Emergency veterinary care at an animal shelter saved her life, and Lionel's Legacy took her in.
Laura Oliver, founder of the charity, says it's rewarding to have chosen such a perfect match for Milt.
"You can tell they're both smitten."
Jen Reeder is a freelancer journalist and president of the Dog Writers Association of America.