Sante Fe school shooting: Suspect 'was rejected' by victim Shana Fisher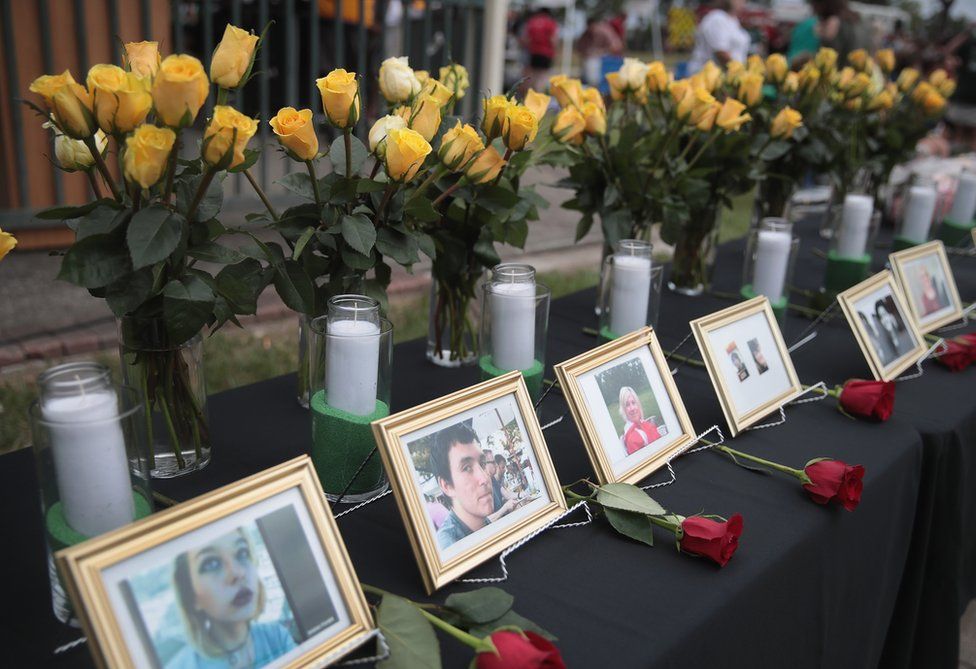 The mother of a 16-year-old girl killed in the Santa Fe school shooting has said her daughter had publicly rejected suspected killer Dimitrios Pagourtzis just days before the attack.
Sadie Rodriguez said her daughter Shana Fisher had endured "four months of problems from this boy".
"He kept making advances on her and she repeatedly told him no," she told the Los Angeles Times.
Ten people died in the shooting on Friday, and 13 were injured.
Ms Rodriguez said Mr Pagourtzis had been increasingly aggressive until her daughter stood up to him, embarrassing him in class.
"A week later he opens fire on everyone he didn't like," she said.
Ms Rodriguez claimed her daughter had been the first shot dead, but did not specify how she knew.
The student's aunt, Candi Thurman, wrote on Twitter: "Shana turned 16 on May 9th. She should be getting her first car, not a funeral."
Pagourtzis, 17, has been charged with murder after the attack at Santa Fe High School, south-east of Houston in Texas.
According to an affidavit filed in court, he waived his right to remain silent and admitted "to shooting multiple people".
Shocked community rallies for funerals
Signs reading "Santa Fe Strong" could be seen outside many local churches and businesses over the weekend.
The funeral of Pakistani exchange student Sabika Sheikh was among the first to be held, at a mosque in suburban Houston.
More than 3,000 members of the Texas Muslim community attended to pay tribute to the 17-year-old, who had described her acceptance on to a US exchange programme as the best thing that had ever happened to her.
Her host family described their time with her as "a precious gift," saying they had even joined her in fasting during Ramadan.
And speaking from Karachi, Sabika's family told the LA Times they had been counting the days before she would return for the summer holiday.
"I don't blame the murder of my girl on American society but on that terrorism mindset that is there in all societies," her uncle Ansar Sheikh said, adding: "We need to fight it all over the world."
"I do ask the American government to make sure weapons will not be easily available in your country to anybody. Please make sure this doesn't happen again."
An emotional service was also held at Aldersgate United Methodist Church, where one of the students killed, Jared Black, had been a member.
At Arcadia First Baptist Church, Texas Governor Greg Abbott joined a gathering on Sunday which was initially planned to celebrate the high school's graduating seniors. Inevitably, its focus shifted in the wake of the shooting.
"We want to come together as a community and support one another," senior pastor Jerl Watkins said, according to Dallas News.
"It's times like this when all of us realise how fragile our lives really are."
American football player JJ Watt, who plays for the Houston Texans, has offered to pay for the funerals of the eight students and two teachers killed.
In a statement, the family of the shooting suspect said they were "saddened and dismayed" by the deadly attack and "as shocked as anyone else".
On Sunday, National Rifle Association president Oliver North blamed the shooting on "a culture of violence".
"Many of these young boys have been on Ritalin since they were in kindergarten," he told Fox News.
Police have not said that the Sante Fe suspect was taking ADHD medication.