NYPD officers killed in wedding day Maserati crash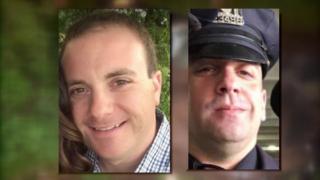 Two New York police officers, one a bridegroom on his wedding day, have been killed after their Maserati sports car crashed.
Officer Michael Colangelo, who had just got married, and detective John Martinez died late on Sunday after celebrating the wedding reception.
They were not wearing seatbelts and were thrown from the rented car when it hit a tree, police said.
A backseat passenger, who was wearing a seatbelt, was taken to hospital.
The NYPD officers were about a mile away from the reception when they crashed in Ulster County, Maj Pierce Gallagher of the New York State Police told CBS.
Mr Gallagher said there was a "violent impact... so the speed was probably excessive for that roadway".
Witness Gregory Zaff said he heard the crash from his home and rushed to the scene.
"The father of one of the deceased, he was screaming so bad and banging on a car. It was unbelievable and lasted for minutes, the screaming," Mr Zaff told CBS.
Mr Colangelo's neighbour, Raymond Spatafora, told the New York Post: "It's terrible. Very, very sad. He just got married. His wife was very, very nice. She worked a lot of hours as a nurse."
Police are waiting for autopsy results to determine who was driving and for toxicology reports to see whether alcohol was a factor.