Philip Roth: Portnoy's Complaint author dies aged 85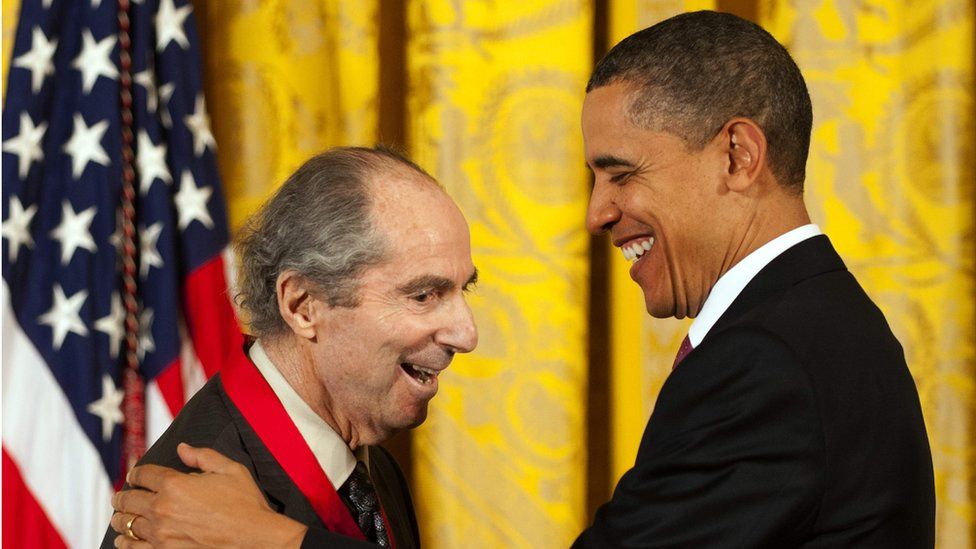 One of the great American authors, Philip Roth, has died aged 85.
The Pulitzer, National Book Award and Man Booker International Prize-winning novelist's work drew its inspiration from Jewish family life, sex and American ideals.
His works included American Pastoral, I Married a Communist and Portnoy's Complaint.
The New York Times reported that a close friend of Roth's said he had died of congestive heart failure.
Roth first found success with his short story collection, Goodbye Columbus, published in 1959.
A decade later his sexually explicit novel Portnoy's Complaint catapulted him to notoriety, making him a celebrity in the US.
In later life, he wrote a number of highly regarded historical novels, including his 1997 work American Pastoral, for which he won his Pulitzer.
He wrote prolifically over the course of his career, publishing more than 30 books before ending his fiction career in 2009.
When Roth won the 2011 Man Booker International, chairman of the judges Rick Gekoski said: "His career is remarkable in that he starts at such a high level, and keeps getting better.
"In his 50s and 60s, when most novelists are in decline, he wrote a string of novels of the highest, enduring quality."
"I can recall few of his novels that don't provoke an occasional but overwhelming desire to shout 'Will you shut up!' at a character or his author," he said.
By James Naughtie, BBC books editor
His heritage was extremely important, and in some ways he wrestled with it all his life. The question of identity, which is the question which, in the melting pot of America, is always going to be the one that a serious writer has to grapple with.
Where do you come from? What do you do? What kind of kid are you growing up in New York? That was the obsession that took him right through his writing.
But in the end, you've just got to remember that here was a man who could write beautiful prose. That's what carried him through. His death puts an end to a whole era of American literature.
In 2014, Roth told the BBC he would make no more public appearances: "I can guarantee you that this is my last appearance ever on television... absolutely [my] last appearance on any stage anywhere."
Speaking on the BBC Radio 4's Today programme, his biographer Blake Bailey spoke of how much Roth enjoyed writing about the Jewish neighbourhood where he grew up, in Newark, New Jersey.
Philip Roth died tonight, surrounded by lifelong friends who loved him dearly. A darling man and our greatest living writer. pic.twitter.com/v01QkXi7wD

— Blake Bailey (@BlakeBaileyOn) May 23, 2018
"It is ironic that he got this reputation as a self-hating Jew," he said.
"Philip despised anti-Semitism in all its forms and he himself loved Jews, he loved growing up in a Jewish neighbourhood. He didn't have much time for the religious side of it, but everything else was just great."
Screenwriter David Simon - creator of The Wire - said Roth was "the great American novelist of our post-war world".
Improbably, I had the honor of meeting Philip Roth just a few months ago to discuss an adaptation of Plot Against America. At 85, he was more precise and insightful, more intellectually adept and downright witty than most any person of any age. What a marvelous, rigorous mind.

— David Simon (@AoDespair) May 23, 2018
Author David Baddiel said: "He's about the only writer, I would say, who is considered to be amongst the greatest in the canon who is properly funny.
"His books are laugh-out-loud funny. You read on the back of many, many books 'hilarious' and they never are, but Roth's actually are. Roth's can make you laugh, and I think that is a real achievement of his.
"He had two prose styles. [One which was] very turbo-charged, very fast and overflowing with images and jokes, and then he had a more stately way of doing it in things like the Zuckerman novels, where he sees himself more self-consciously as a novelist."
Other writers also shared tributes on Twitter.
Haven't grasped the words yet to explain Roth's influence, which I feel everywhere from my writing to my dating, and we are so lucky for the stack of books he left us with. Rest In Peace, sweet prince of Newark 🙏

— 💎 Lena Dunham 💎 (@lenadunham) May 23, 2018
RIP Philip Roth. One of our greats. A very sad moment for American, and global, literature.

— Pamela Paul (@PamelaPaulNYT) May 23, 2018
Why many readers loved Roth
"To be in his 60s making work that is so strong, so full of revelations about love and emotional pain, that's the way to live your artistic life," singer Bruce Springsteen once said of his fellow New Jersey native.
"Which reader of intelligence and curiosity does not relish Roth's long, muscular sentences, which brim with felt life?" writes the Spectator magazine after his death.
But his style, and his protagonists, rubbed some up the wrong way.
"Roth is an extremist. He loves to shock, to go beyond the limits of acceptability. That's why he's so funny. But it's also why he's not to everyone's taste," wrote author William Skidelsky in the Guardian in 2011.
He made the comments after the resignation of publisher Carmen Callil from the Booker judging panel after he was picked as winner. She conceded that he was a clever and comic writer, but she protested the accolade going to "yet another North American".
Roth has been accused of misogyny, particularly in his graphic sex scenes.