White House lawn sinkhole spawns swamp jokes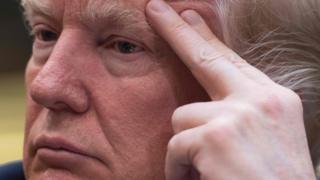 Spare a thought for the White House groundskeepers, after a small sinkhole on one of the United States' most famous lawns saw social media users seize on the bluntest of metaphors.
Photos were shared widely after White House reporters posted pictures of the horticultural punch line on Tuesday.
Journalists said the sinkhole had developed earlier in the week but was growing.
Many social media users were quick to draw comparisons with President Trump's campaign promise to "drain the swamp".
Voice of America White House bureau chief Steve Herman was among the first journalists to post pictures of the sinkhole online.
"This week I've been observing a sinkhole on the White house North Lawn, just outside the press briefing room," he wrote, adding that it was "growing larger by the day".
You might also like:
The floodgates opened. Lots of people made the same joke. And "sinkhole" was mentioned close to 50,000 times on Twitter inside 24 hours.
CNN's chief White House correspondent Jim Acosta, who has had several well-publicised run-ins with President Trump, blamed the sinkhole on the "swampy weather in DC lately".
Former Star Trek actor George Takei, a vocal Trump critic, referenced the inaction of politicians perceived by gun control advocates in the wake of mass shootings.
"God was asked whether He would stop [the sinkhole] from swallowing the whole building," he wrote.
"But He responded 'the Trumps are in my thoughts and prayers'."
The biblical theme continued with a tweet from God himself. Or, at least, a Twitter user with more than five million followers calling themselves God.
Others offered an alternative suggestion.
Inevitably, the White House sinkhole quickly got its own Twitter account.
President Trump's supporters were less impressed with the sudden outpouring of digital schadenfreude from their political opponents.
Some joked the sinkhole might have been formed by President Trump's opponent in 2016, Hillary Clinton, trying to tunnel into office after her election loss.
The appearance of the sinkhole comes a year after a similar sinkhole developed in the grounds of Mar-a-Lago, President Trump's Florida private members club.
National Park Service spokeswoman Jenny Anzelmo-Sarles said the organisation was "monitoring the small sinkhole on the north White house grounds".
"Sinkholes, like this one, are common occurrences in the Washington area following heavy rain," she said.
"We do not believe it poses any risk to the White House or is representative of a larger problem."
The sinkhole was later covered over.