Trump: NFL kneelers 'maybe shouldn't be in country'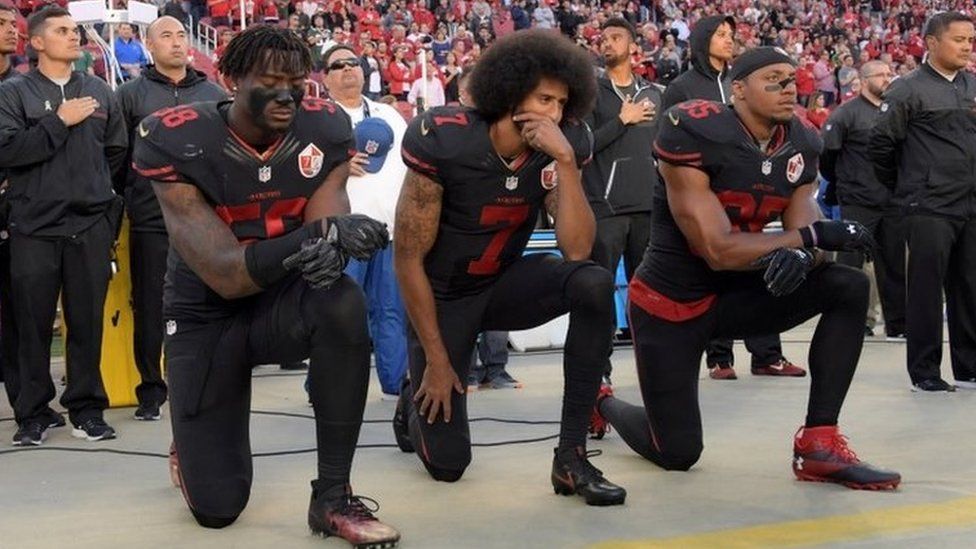 President Donald Trump has praised an NFL ban on players kneeling during the national anthem, questioning whether such protesters should stay in the US.
He said: "You have to stand proudly for the national anthem or you shouldn't be playing, you shouldn't be there, maybe you shouldn't be in the country."
The interview was aired a day after the NFL said clubs will be fined if players kneel for the Star-Spangled Banner.
The players have been protesting over perceived police brutality since 2016.
In an interview with Fox & Friends filmed on Wednesday, Mr Trump said of the NFL's decision: "The people pushed it forward, not me. I brought it out."
Last autumn in Alabama, Mr Trump called on protesting players to be fired.
"Wouldn't you love to see one of these NFL owners, when somebody disrespects our flag, to say, 'Get that son of a bitch off the field right now, out, he's fired. He's fired,'" Mr Trump said at the time.
"That's a total disrespect of our heritage. That's a total disrespect of everything that we stand for."
Under the new league policy, teams can be fined an unspecified sum if players protest on the field.
Players are permitted to stay in the locker room as the anthem is performed. They were previously required to be present on the field.
"I think that's good," Mr Trump told Fox, in what White House correspondents count as his 23rd interview with the conservative cable network since he became president.
"I don't think people should be staying in locker rooms, but still, I think it's good."
The owner of the New York Jets said after Wednesday's decision by NFL owners that his players would not suffer any fines if they choose to violate the ban.
"If somebody [on the Jets] takes a knee, that fine will be borne by the organisation, by me, not the players." CEO Christopher Johnson told Newsday.
He added: "I don't want to come down on them like a ton of bricks, and I won't. I never want to put restrictions on the speech of our players."
On Twitter, a player for the Philadelphia Eagles - which won the Super Bowl last February - accused the league of only caring about its finances.
"This is fear of a diminished bottom line," wrote Chris Long.
But keep the politics out of football.

— Chris Long (@JOEL9ONE) May 24, 2018
"It's also fear of a president turning his base against a corporation. This is not patriotism."
In an editorial titled The NFL kneels to Trump, the New York Times slammed the decision.
"Rather than show a little backbone themselves and support the right of athletes to protest peacefully, the league capitulated to a president who relishes demonising black athletes," it said.