Canada politician seeks to decriminalise payment for surrogacy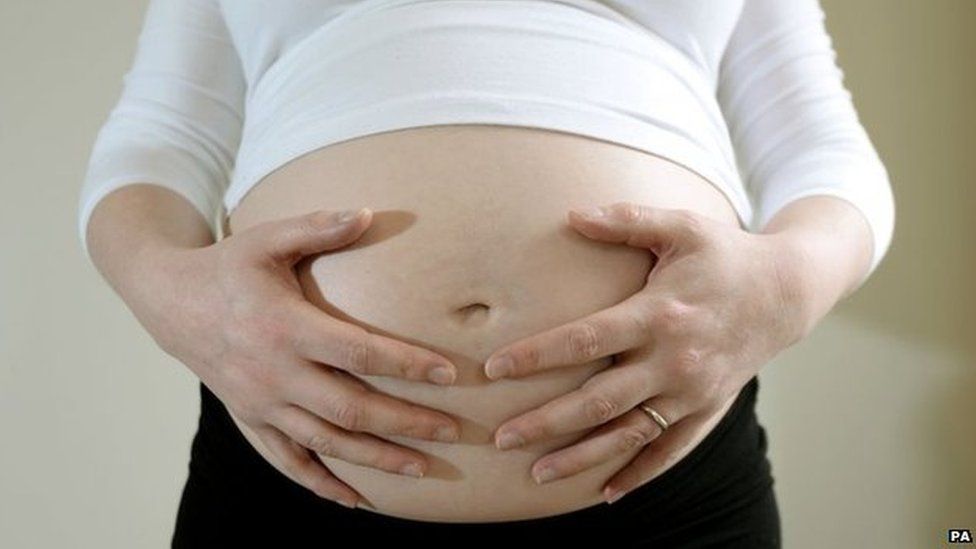 A Canadian MP is proposing that the country decriminalise payment for women who choose to become surrogates. As global demand for Canadian surrogates grows, is commercialising the practice the answer?
Leia Swanberg is the only person ever to be prosecuted under a Canadian law that prevents payment for surrogacy and limits the activities of surrogacy agencies.
A two-time surrogate herself, the fertility agency owner and her company walked away with a combined C$60,000 ($46,000; £35,000) fine in 2014.
"My office being raided, my house being raided - you know it was a little unnecessary, it was a little overkill," she says.
The fines received by Ms Swanberg - who pleaded guilty to purchasing eggs, paying surrogates, and taking money to arrange surrogacies - could have been worse.
Breaking the federal law could mean jail time, a fine of up to $500,000, or both.
Surrogacy is legal in Canada but paying a surrogate is not.
Canadian women who offer to carry someone else's child are "altruistic" surrogates and can only be compensated for related out-of-pocket expenses.
Egg and sperm donors also are not compensated, and Canada currently imports 95% of sperm used by fertility clinics. Agencies can't match surrogates with prospective parents but can offer assistance and referrals.
This week, a federal Liberal MP introduced a private member's bill that could change that.
Anthony Housefather's proposed legislation would decriminalise payment for surrogacy, as well as for egg and sperm donations.
"There is no right in Canada to have a child," the politician told journalists on Tuesday. "But there is a right to liberty."
Critics of the current law say surrogacy should be considered a health - not a criminal - matter.
They say it has failed in protecting the safety and rights of those involved and has caused fear and confusion due to unclear rules and regulations.
If commercial surrogacy is eventually allowed in Canada, it would be among the few countries in the world to do so.
Bulgaria, France, Germany, Italy, Portugal and Spain prohibit surrogacy in all forms.
Thailand, Nepal, Mexico, and India, have recently banned foreign commercial surrogacy.
Commercial surrogacy is available in Russia, Georgia, Ukraine and Iran and in the US, though state laws vary widely.
Sally Rhoads-Heinrich is the owner of Surrogacy in Canada Online, one of the country's largest surrogacy agencies, which helps assist up to 150 arrangements each year.
She says decriminalising payment for surrogacy is "a great step in the right direction" for an industry she believes is badly in need of an overhaul.
"These are Canadians trying to create their families - they're not criminals," she says of surrogates and prospective parents.
Ms Rhoads-Heinrich wants to see a licensed and regulated industry that offers legal clarity for consultants, surrogates, donors and parents.
She believes that allowing compensation would also increase the number of women willing to carry someone else's child.
Some of the "best candidates" for surrogacy who approach her agency choose not to go ahead with it because of lack of payment, she says.
"There are a lot of embryos, thousands of embryos - tens of thousands of embryos stored across Canada that are never going to become future Canadians because of [the current law]," she says.
Ms Rhoads-Heinrich also believes allowing for compensation will dissuade some foreign couples looking to Canada who she says sometimes see the country's surrogates as "free and cheap".
She would also like to see agencies licensed.
"Hairdresser and taxi drivers have licensing and we don't," she says. "And we're creating babies and families."
Recent statistics on the industry are scarce, but in 2014 fertility clinics carried out 440 in-vitro fertilisation cycles on surrogates in Canada. That's double the number from 2008.
Canada is a popular destination for international surrogacy, and consultants say they have seen demand grow.
The country offers a number of benefits for foreign couples interested in cross-border baby-making.
Surrogacy can cost tens of thousands of dollars less in Canada than in the US because prospective parents are only compensating the surrogate for expenses and aren't saddled with the same medical bills. In Canada, the bulk of the medical costs are paid for under the universal healthcare system.
Factoring in medical, legal and agency fees, estimates suggest surrogacy in the US can cost over $120,000 (£90,500), compared to about $70,000 in Canada.
Canada is also welcoming to same-sex couples or single people who dream of parenthood. Babies born to Canadian surrogates automatically receive citizenship.
There is broad agreement that Canada needs to do more to regulate the industry but not everyone is on board with a commercialised system.
Mr Housefather says his bill would allow provinces to regulate the industry as they see fit, since health matters fall under their jurisdiction.
While private member's bills very rarely become law, Prime Minister Justin Trudeau recently said it is time for Canadians to have a "conversation" about the issue.
Ms Swanberg has been helping Mr Housefather lobby his fellow MPs to support his proposed legislation.
She told the BBC that given the challenges surrogates and prospective parents face, she believes it's unfair to add the worry they may run afoul of the law by something as small as paying for certain expenses.
The law doesn't clarify specific expenses surrogates are allowed to claim.
"As people become parents it's such a vulnerable place to be in. So to add that criminal dimension to it, I believe is really out of line," she says.
She says agencies like hers, which operate in a grey area already, would welcome more clarity around what they can and can't do.
"I think there's a better way to structure supporting business within this industry, supporting businesses that are helping people have families," Ms Swanberg says.