Canada boy traces sender of old message in a bottle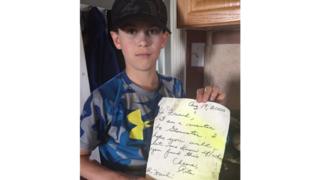 A mystery has been solved after a Canadian boy found a message in a bottle all the way from the US.
Dallas Goreham, 11, found a note from Gloucester, Massachusetts, last week on the shore near his home in Nova Scotia - some 300 miles (480 km) away.
The letter was dated almost 20 years ago, and the email included in the letter to reach the writer was defunct.
After some sleuthing, the boy's mother tracked down the writer, an 80-year-old woman living in Buffalo, New York.
Tara Goreham says her son found the bottle while beachcombing for sea glass, a typical pastime in the seaside town of Woods Harbour.
"He was off in the distance playing around rocks and the wharf and he saw a bottle in the sand," she told the BBC on Thursday.
He could tell there was a message inside, but the neck of the bottle was too tight, so he had to cut the bottom of the bottle off in order to pull the note out.
Mrs Goreham says her son had to wait until she got home from work so that she could help him read the handwritten note.
"Hi 'friend,' I am a visitor to Gloucester. I hope you will let me know if/when you find this. Cheers, Rita," it read, followed by the date, 19 August 2000 - and an email address with her surname, Ganam.
The email returned no reply. But a quick Google search found an article with that name published in the Buffalo News in 2003.
Mrs Goreham emailed the paper, who gave her Rita Ganam's contact information. She had found her son's mystery writer.
Now 80, Ms Ganam told Mrs Goreham that sending the letter had been "a spur of the moment thing" while visiting relatives in Gloucester.
As for her son, Mrs Goreham says the discovery has inspired him to keep beachcombing.
"He thinks it's incredible, he's loving the publicity and he's wanting to find anything else in a bottle," she said.