Trump and North Korea: What cancelled summit reveals about US foreign policy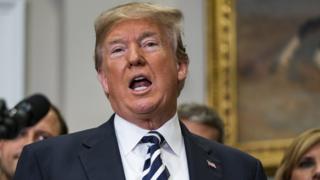 The decision to pull out of the summit with North Korea rounds off a momentous six weeks for US foreign policy.
It has provided a window on President Trump's approach to foreign affairs; one that may worry friends and potential enemies alike.
In mid-April there were the US-led strikes on Syria as punishment for the Assad regime's use of chemical weapons.
Less than a month later, President Trump pulled the US out of the nuclear agreement with Iran, known as the JCPOA - a deal he had always insisted was bad for the US and bad for its friends in the region.
In mid-May he followed through on another campaign promise when the US symbolically moved its embassy in Israel to Jerusalem.
Now, some 10 days later, he has pulled out of the summit with the North Korean leader Kim Jong-un.
Honouring commitments
One thing that Mr Trump has certainly demonstrated is his willingness to follow through on commitments he made during the campaign.
But both the decision to pull out of the JCPOA and the embassy move in Israel were approached with little real consideration of the wider context or consequences.
The Jerusalem embassy decision was made in isolation; it was never seen as part of any broader effort to move ahead with Israel-Palestinian peace.
It came at a time of growing tension in the Gaza Strip and, along with heavy-handed Israeli security tactics and the cynicism of the Hamas leadership, it may well have inflamed the violence.
Of the Trump administration's much-trumpeted peace plan there is simply no sign.
On the Iran deal, there was again no apparent strategic vision. Would this step ultimately make it harder to constrain Iran's nuclear programme? Might it further strain relations with Washington's key Nato allies? And would it not also add an additional level of tension between the US and other key international players like China and Russia?
The earlier bombing in Syria was supposed to send a message to President Assad that enough was enough.
But again where was the wider strategy? Mr Trump has spoken about wanting to pull all US troops out of Syria, but this seems to fly in the face of another of the administration's stated goals which is to contain and curb Iran's rising influence in Syria and beyond.
Photo opportunity for Kim
Now we have the decision to pull out of the Singapore summit with North Korea. The problem here was probably a different one; over-optimism and plain lack of experience or realism.
North Korea is certainly a difficult country to deal with. Previous administrations have tried to get deals. Twice they have reached agreement and twice they have collapsed.
The Americans say that this time they had been reaching out to the North Koreans to discuss the details about what might have been agreed and received little response.
It looks as though the summit might have turned into a photo opportunity for Kim Jong-un and that was simply unacceptable in Washington.
But this tells us something else about the highly personalised and dysfunctional approach of this administration to foreign affairs.
The summit idea emerged almost out of nowhere. It came as a welcome antidote to the growing level of invective between Washington and Pyongyang, as each traded nuclear threats with the other.
But it was almost stillborn at birth. The timescale was just far too short. Little preliminary work had been done. The issues were just too complex and the gaps between the two sides seemingly unbridgeable.
State department's empty desks
To even set the summit hare running was a decision that in large part reflected Mr Trump's ego and his bombastic self-belief in his own powers as a deal-maker. But that, it should be clear, is not how diplomacy works.
To a large extent, the US foreign policy machine is running in a void. Senior western diplomats point to the almost empty floor at the state department where the essential assistant secretaries for this region or another should be sitting. But they have simply not been appointed yet.
This is why the European governments negotiating with the Americans on a follow-on deal for Iran were aghast when they found that their efforts were simply not heading upwards in the US foreign policy machine. Vital pieces of that machinery were simply not in place.
The problem of the malaise at the state department and tumbling morale there may well be resolved by the new Secretary of State Mike Pompeo. But all you can say is better late than never.
Already some momentous foreign policy decisions have been made and the US and the world will have to live with the consequences.