Harvey Weinstein surrenders to New York police 'to face sex misconduct charges'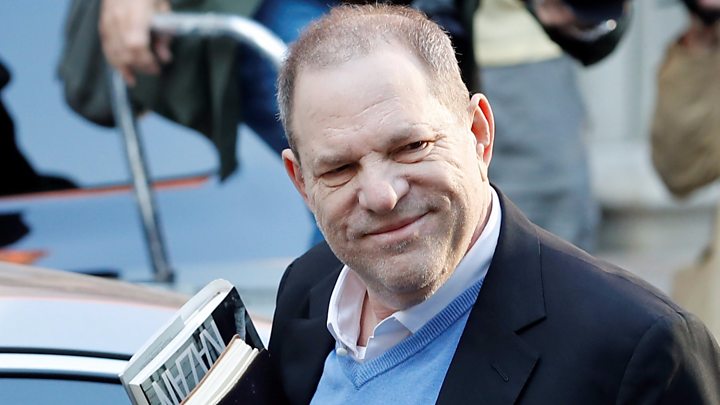 Hollywood mogul Harvey Weinstein has turned himself in to police in New York, where he is expected to face sexual misconduct charges.
The charges have not been announced but US media say some may relate to accusations by actress Lucia Evans.
Dozens of women have made allegations, including of rape and sexual assault, against the 66 year old.
Mr Weinstein has always denied non-consensual sex and this would be the first time he has been charged.
The allegations triggered the #MeToo movement which sought to demonstrate and draw attention to the widespread prevalence of sexual abuse and harassment.
Dozens of journalists were at the 1st Precinct police station in Manhattan when Mr Weinstein appeared at about 07:25 local time (11:25 GMT), dressed casually and carrying one book about director Elia Kazan and another about Rodgers and Hammerstein.
What will Weinstein be charged with?
The charges will stem from an investigation made by a Manhattan grand jury. They have not been made official and the indictment depends on district attorney Cyrus Vance.
The New York Times reports that some of the charges relate to an allegation brought by Lucia Evans.
She detailed her accusations against Mr Weinstein in an article in the New Yorker in October last year.
It is not clear if he will face more charges brought by other accusers.
It is known that New York police have been investigating allegations of rape made by actress Paz de la Huerta.
And this month Netflix producer Alexandra Canosa filed court papers in New York alleging Mr Weinstein raped, sexually assaulted and verbally abused her over a five-year period.
The statute of limitations will be an issue in some cases but it is not thought to apply in the Evans case. Even if the limitations apply, a judge could still call women to testify to establish a pattern of behaviour, as in the recent trial of actor Bill Cosby.
Mr Weinstein is expected to have his mugshot and fingerprints taken at the police station. The Times said he would then be arraigned at Manhattan Criminal Court.
Who else has accused Weinstein?
The Hollywood mogul has faced accusations of sexual harassment and assault from dozens of women. Some have alleged rape.
Actresses Kate Beckinsale, Lysette Anthony and Gwyneth Paltrow are among the high-profile figures to have spoken out.
Actress Ashley Judd is suing the 66-year-old Hollywood producer, claiming he damaged her career after she rejected his sexual advances.
One of the cases was in New York, where Italian model Ambra Battilana accused Mr Weinstein of groping her in 2015.
Investigators decided not to charge him even though there was an audiotape of Mr Weinstein accepting he had touched her breasts and pledging not to do so again.
Prosecutors in Los Angeles are reviewing several cases involving accusations against Weinstein after police investigations.
London's Metropolitan police are also assessing a sexual abuse allegation against Mr Weinstein.
What has happened to the film producer?
The allegations have left his career in tatters.
He was fired last year from his production firm the Weinstein Company, which later filed for bankruptcy.
Top industry figures have condemned him and the organisation behind the Oscars expelled him.
How have people reacted to the latest news?
Some of Mr Weinstein's accusers have spoken out to welcome the impending charges.
Actress Rose McGowan wrote that some women had given up hope he would be held accountable.
She said: "Twenty years ago, I swore that I would right this wrong. Today we are one step closer to justice."
Italian actress Asia Argento, who alleges Mr Weinstein sexual assaulted her in the 1990s, reflected on the latest news in a simple tweet:
What has the Weinstein case inspired?
The #MeToo campaign against sexual harassment and abuse swept through Hollywood last autumn.
It followed an invitation from actress Alyssa Milano on Twitter for those who had been sexually harassed or assaulted to reply "Me Too". She received half a million responses in 24 hours.
In January, more than 300 actresses, writers and directors launched the Time's Up project, raising $21m (£15m) in just a month to fund legal assistance for people who suffer harassment, abuse or assault at work.
More cases come to light seemingly every week.
On Thursday US film star Morgan Freeman apologised following allegations of sexual misconduct.